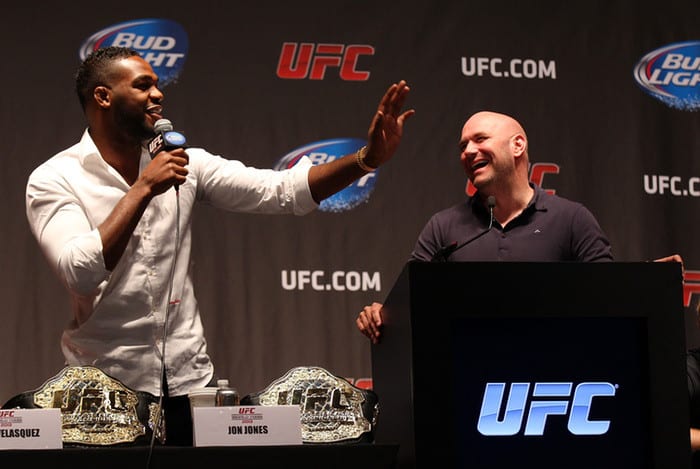 Dana White and Jon Jones have long had something of a tumultuous relationship.
While the UFC president has always been quick to share his opinion Jones is one of the best fighters in history, he's also fired shots at Jones for some of the former light heavyweight champion's poor out-of-cage conduct, leading to acrimonious back and forths on occasion.
Now, White says, he and Jones have gotten to talk and clear the air, and are now in a better spot than they've been in for quite some time. Maybe ever.
"I'm trying to think of how long Jon Jones has been in the UFC now. It's ten plus years," White said, speaking to BT Sport. "Jon Jones and I had the best conversation we've ever had about a week ago. He's ready to come back. His heads in the right place and he and I are in a really good place."
Jones is currently gearing up for a move to heavyweight, and is likely to be inserted into the title picture almost immediately, although White did confirm he wouldn't be skipping Francis Ngannou in the queue.
"He doesn't get to jump over Francis and fight for a title. I don't know what we're going to do yet or how it's going to play out, but we're working on it," White said.
Whatever happens, White says we're going to see a reinvigorated Jones now he's taking on bigger and more dangerous men.
"I do [think he'll be revitalised]," White said. "I think he's excited for this challenge, and he's excited to cement his legacy as the greatest to ever do it."
–
Comments
comments