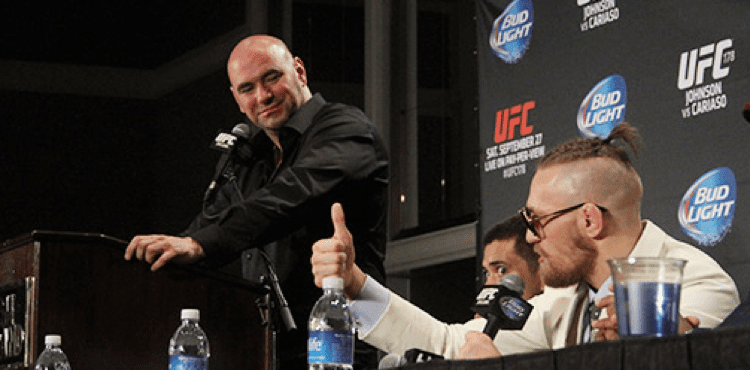 When Conor McGregor had his 145-pound belt stripped by the UFC, the promotion received a level of criticism that was only exacerbated by the different version of events that UFC President Dana White and McGregor himself offered forward.
White claims that giving up the featherweight title was, in fact, McGregor's idea. McGregor, on the other hand, maintains that he is still the UFC double champion. Despite the entire incident, White is quick to (once again) play down any talk of conflict between the two of them.
"Conor McGregor is a very unique individual, and very different," White said, speaking on the UFC Unfiltered podcast. "I let Conor do his thing. Everyone always thinks there's some kind of animosity between me and Conor and something bad's brewing. I don't know how much more I could say it publicly, how much I respect the guy.
"He says 'I'm still a two weight world champion', he's damn right he is. He is a two weight world champion. It doesn't take away what that guy accomplished and what he's done. And when you look at the 145-pound title, he didn't lose it. He gave it up. He didn't lose it, he was never beaten and the belt was never taken from him. He's the man, he's the guy. No doubt about it."
Another topic of conversation the Irishman has brought up recently, is the idea of a step into boxing. Recently applying for and being granted a boxing license in California, the long hypothetical boxing match seemed to take a step towards becoming reality – although White's not convinced.
"He's not fighting Floyd Mayweather," he said. "Floyd Mayweather's isn't going to fight him, man. It's never going to happen. If you look at the biggest fight anybody ever talked about, Manny Pacquiao versus Floyd Mayweather, look at how long it took for that fight to be made — and those guys are in the same sport. Plus Floyd, I'm not taking anything away from Floyd, but Floyd has been perfect at fighting the right guys at the right time, and he's not going to get in there and mix it up with Conor."
And why not?
"Let me tell you this. Knowing what you know about Conor, just from what you've seen, without knowing him personally; do you think that if him and Floyd get in there and start mixing it up, Conor McGregor might not hit him with a fucking spinning back kick to the body?" Even if it was pure boxing, it doesn't mean he can't throw a kick.
"If you're Floyd, why would you even risk that?"
Comments
comments