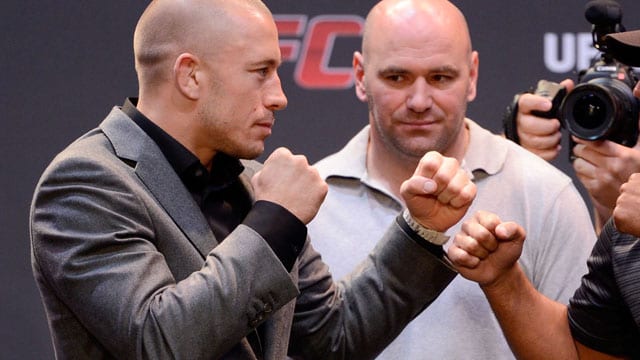 This might be considered the money fight era of mixed martial arts, but according to UFC President Dana White, that trend will no longer apply to Georges St-Pierre's contests.
St-Pierre has begun making headlines again recently after suggesting he'd be interested in dropping to 155-pounds to fight the winner of Conor McGregor and Khabib Nurmagomedov's upcoming lightweight title fight. But even if a St-Pierre return against either man would spell big bucks for the UFC, White says he doesn't want to see it.
"I'm not interested in that fight. He knows that and I've told him many times," White said, speaking to the BBC. "He was the 170-pound champion, he moved up to 185 pounds to take on Michael Bisping and put in his agreement that he would absolutely defend the title at 185 and then just dumped the title. I'm not interested.
"Georges St-Pierre is looking for one off fights where he can make a lot of money, which it's smart, that's what he should do but we're not interested in that."
Instead, if there is a GSP return to action, White wants it at the division St-Pierre first made his name.
"I'm interested in Georges St-Pierre coming back at 170 [pounds]. Not at 155 pounds," White said. "I don't know. He's not too excited about fighting or defending his title or anything like that. I don't know if he'll ever fight again."
Comments
comments