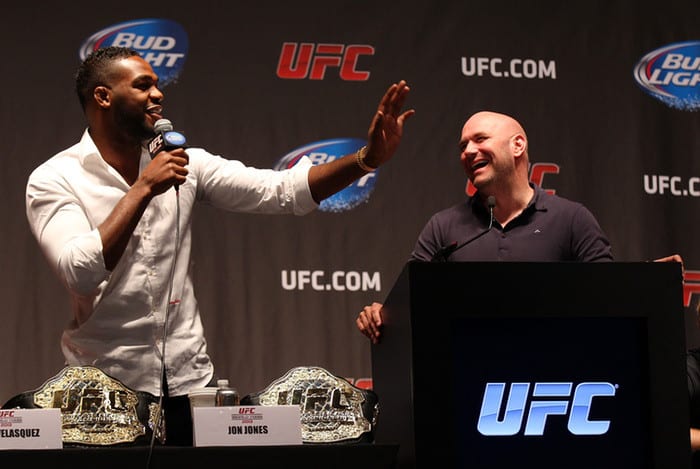 When it was revealed yesterday that former UFC champion Jon Jones would be eligible to fight again from the end of October, most fans and pundits began pointing to UFC 230 in New York as the most obvious returning point.
UFC 230 takes place on November 3 at Madison Square Garden, and as yet has no main event booked. Jones, who is from New York, would seem a natural fit. According to UFC president Dana White, however, viewers will have to wait a little while longer before the controversial star returns to the Octagon.
"Beginning of next year," White said, speaking on ESPN's 'Get Up' (H/T MMAFighting). "He's been off for awhile. I think he's a little heavy right now and he needs to start cutting weight and getting back into shape and we should see him early next year."
Jones received a 15 month suspension for the failure of a drugs test around UFC 214. While some are happy to see the undeniable talent able to fight sooner rather than later, there were plenty who accused the UFC's anti-doping partner USADA of showing bias and being ineffective.
While White didn't go into too much detail regarding his thoughts of the verdict, he did appear to endorse Jones' claim that it was contaminated substances that got the banned drugs into his system.
"[USADA] had a third party independent investigator come in and investigate," White said. "They investigated and what they believe it was was contaminated supplements which is a huge problem right now. You have very few companies that actually make these products and they are putting bad things through the same silos as they are putting the good things through and yeah it's contaminated supplements."
Comments
comments