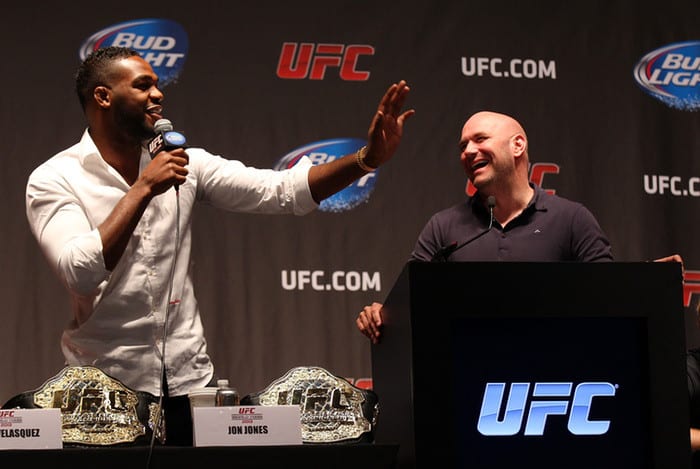 At the tail end of May, Jon Jones announced that he was 'relinquishing' his UFC light heavyweight title in the latest in what seemed to be a torrent of disputes between Dana White and several of his rostered athletes regarding fighter pay. 
This stemmed from Jones' assertion that the UFC were not keen to award him an improved deal to make his long-awaited move to heavyweight for a proposed fight with Francis Ngannou. Jones would soon declare that light heavyweight title defences against the likes of Jan Blachowicz, or a rematch of his closely fought affair with Dominick Reyes, didn't particularly interest him.
He soon announced in a tweet that he was 'relinquishing' the UFC's 205-pound belt until he receives an offer to fight which he considers appropriate, hinting that a summer 2021 fight with current middleweight champion Israel Adesanya would be something he would consider — so long as the price is right.
#ESPN Reyes vs Jan For the UFC light heavyweight championship of the world. As of right now, I got nothing to really gain fighting either of them. Let me know if you guys want to set up a day in 2021 for that Izzy fight. Hopefully you guys will be willing to pay by then.

— BONY (@JonnyBones) May 31, 2020
— BONY (@JonnyBones) May 31, 2020
However, Dana White isn't quite on board with this summation of Jones' current status, and updated Barstool Sports as to how he sees the state of play in the UFC's 205-pound fold.
"You know as much as I know," White said as noted by MMA Fighting. "The last time he said 'I'm not fighting,' he's not fighting, so we're feeling this thing out. When it's time for him to fight, we'll see.
"Not as of yet, no," he answered when asked if the UFC had stripped Jones of his title.
White indicated in the same interview that the UFC has mapped out a series of events to take them into September and base on his comments it is probably fair to assume that Jones doesn't feature in them. Jones last fought in February to a close but unanimous decision win against Dominick Reyes.
Comments
comments