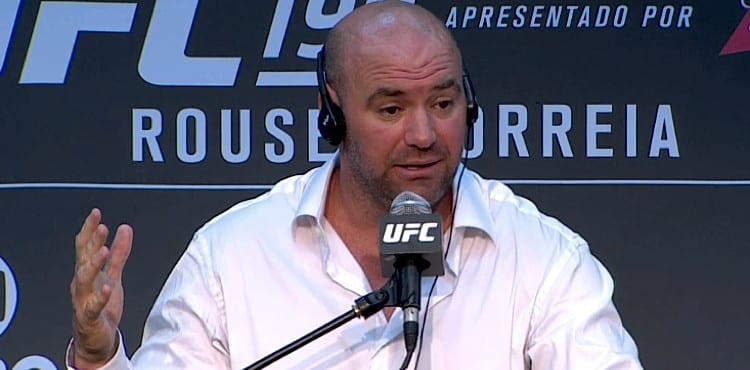 Just like you, Dana White has heard the talk of Khabib Nurmagomedov vs. Floyd Mayweather.
But while Conor McGregor may have been able to step over into the world of boxing, White wants fans to know the conversation of Khabib vs. Mayweather can stop before it gets started.
"Don't pay attention to it," White said, speaking with ESPN. "First of all, the Mayweather team has not approached us at all. Khabib is under contract with the UFC. Floyd is very good about getting his name out there when he wants to."
Dana White (@danawhite) says "don't pay attention" to Nurmagomedov, Mayweather headlines. Full story on that and what's potentially next here: https://t.co/PJt2uiMqnv pic.twitter.com/5DTyYHbRvp

— Brett Okamoto (@bokamotoESPN) October 19, 2018
Instead, Nurmagomedov's immediate future revolves around the Nevada State Athletic Commission. After the Russian's involvement in the post-fight brawl at UFC 229, he currently faces an investigation into his actions — an investigation that could result in serious punishments.
Assuming that all goes swimmingly and Nurmagomedov isn't forced to sit on the sidelines for an extended period of time, it seems logical that there are two names ready to fight him upon his return. Either aa megabucks rematch with McGregor, or the fifth attempt at making a Nurmagomedov vs. Tony Ferguson bout.
According to White, he's not really started thinking about the future until the NSAC issue is resolved, but if you had to ask him at this stage, he appears to be leaning Ferguson.
"I haven't even thought about a rematch," White said. "Obviously, I know Conor wants a rematch. We need to do what's right and what's fair. We'll see how it plays out. We literally haven't thought about it yet.
"As a fight fan, you've got to go with Tony. Tony had the belt, tweaked his knee, got stripped, this fight happens — Tony never lost the [interim] belt in a fight. Neither did Conor, but Conor got the opportunity to actually fight [Nurmagomedov]. I think Tony deserves the next shot."
GREAT answer. As a fight fan, I agree. pic.twitter.com/2QdkeElzqf

— Brett Okamoto (@bokamotoESPN) October 19, 2018
–
Comments
comments