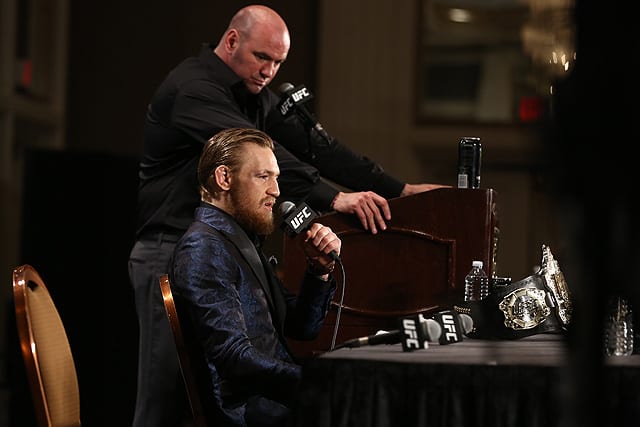 Add UFC president Dana White to the list of people who wouldn't mind seeing a scrap between Conor McGregor and Donald 'Cowboy' Cerrone.
The two fan favourites have been linked to each other ever since UFC Brooklyn, where Cerrone defeated Alex Hernandez and called for a clash with the Irishman, who in turn agreed on social media. Before the contest could come closer to reality, however, we needed to get the Nevada State Athletic Commission's Tuesday hearing out of the way, where McGregor received a six month suspension for his involvement in the UFC 229 brawl.
Now that the verdict is in, it seems White is prepared to start engaging with the idea fully, appearing on ESPN yesterday to say that, should the two fighters want to go at it, he's prepared to give them the floor.
"I like that fight, too," White said. "They both have called each other out. First 'Cowboy', tell me the last boring fight that guy was in. The answer's never. He just busted into the top 10, warrior, unbelievable fight he just had and Conor McGregor's fought anybody we've ever asked to.
"If these two want to fight, I'm in."
–
Comments
comments