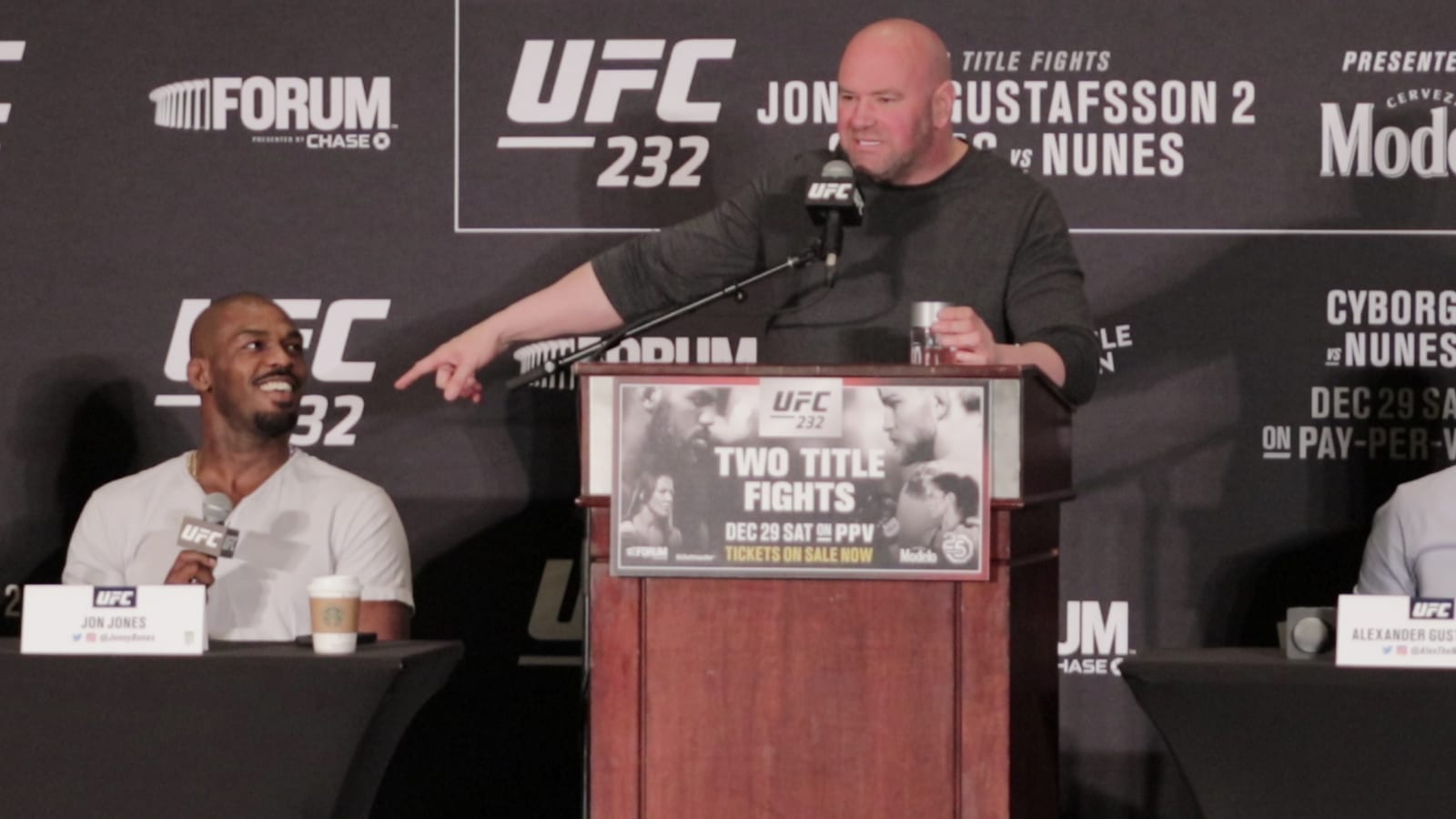 Dana White and Jon Jones continue to disagree on the discussions regarding the light heavyweight champion's potential move up a division.
Jones has said when talks began between he and the promotion, the UFC didn't even wait to hear a number before telling him they wouldn't be bumping up his pay for a move up. In return, White says Jones asked for a completely unrealistic figure that stopped negotiations before they started.
For White, the Jones story continues to be one of both glorious success and failures.
"There's many things that are fascinating things about Jon Jones but I consider Jon Jones the GOAT," White said, speaking on the Dan LeBatard show. "I don't even think there's a debate. The guy is the greatest of all time, and regardless of what you think about his last two fights … the three people that matter, the judges, gave him the fight in his last two fights.
"The guy hasn't been beat, he's fought all the best in the world, despite the damage he's done to himself outside the Octagon. The thing is, you look at what he could have been. He could have been the Lebron James of this sport. He could have been the Michael Jordan of this sport, and could have made God knows. That guy could have a Nike deal. If you look at all the big sponsors that take the big athletes, the Lebrons, the Jordans, the list goes on and on. He could have been that guy.
"I think he's at a point in his career now, he's looking at guys like Conor and Khabib and he's like, 'Why don't I have what these guys have?' He doesn't want to accept responsibility for the things that have happened in the past. The guy lost Nike and Gatorade. Those were two of his sponsors. What could have been is fascinating with Jon Jones."
As far as Jones' apparent request for a jump in pay to fight Francis Ngannou, White wasn't going to be drawn on an exact figure. Instead, the UFC president said Jones was more than able to go public with his demands so others could judge for themselves.
"It's Jon Jones' business. It's his business. If Jon Jones wants to come out and talk about how much money he's made in his last four fights, that's Jon Jones' business," White said. "I got no problem. I would tell you right now how much Jon Jones made in his last four fights despite being arrested how many times and all the things that have gone on with Jon Jones — but that's not my business, it's his.
"When Jon Jones did this new deal that he's under right now, going up to the heavyweight division was factored in. But even if Jon Jones came back and said, 'You know what, I know we factored this in, but I want this fight and I really want to do this, can we bump my money up?' We would still say yes. But not at the number Jones is asking for. That's not going to happen.
"And Jon Jones gets a piece of pay-per-view. Jon Jones is a partner in the pay-per-view. If he believes that that fight with Ngannou is that big, the amount of money he can make is unlimited. It's an unlimited amount of money through pay-per-view. And guys like Conor McGregor and Khabib and many people before them, the Ronda Rousey's, the really really big superstars, they know the answer to that question."
Comments
comments