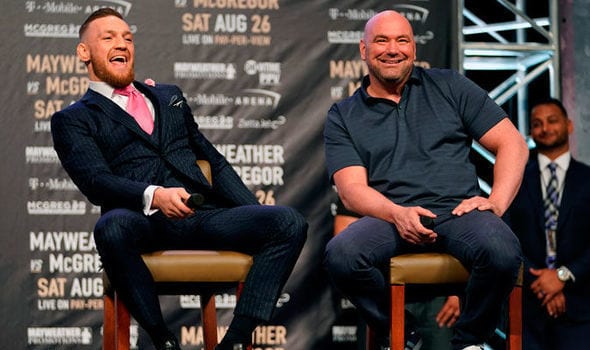 Conor McGregor has predicted that he will make his return to the cage this summer — and that is a timetable that UFC president Dana White is certainly on board with. 
McGregor has stated that he is anticipating a return to full training by April, a date which would cap a remarkable recovery from the broken leg and ensuing surgery to implant a steel rod he underwent in the summer of 2021 — and White says he is keeping his fingers crossed that the Dubliner will be back on a UFC fight card before long.
"I think so, yeah," White told TMZ when he was asked if McGregor will don the 4oz gloves this year.
"He's doing all the right things with his leg. I'm hoping he can come back this summer."
As for who McGregor might face upon his return, that has yet to be settled. Brazil's Charles Oliveira is the current pacesetter in the division having won the vacant belt in a match with Michael Chandler last year before following that up with a title defence against Dustin Poirier in December.
Oliveira has previously pledged that he would "wait" for McGregor to return as a lightweight title fight who satisfy all parties involved, as well as the Irishman's extensive fanbase, though several other 155-pounds contenders remain waiting in the wings.
"If there's anybody that Conor is likely to beat to become the world champion, it is the sitting champion right now," fighter-turned-analyst Chael Sonnen said of the prospective matchup earlier this month.
"Charles Oliveira-Conor McGregor is a fascinating matchup. It is very problematic for Oliveira. Conor McGregor is as good of a striker as this sport has ever seen. Oliveira is a very dynamic striker who showed some real wrestling prowess in a couple of contests but in other contests didn't.
"Conor can handle himself on the ground. Conor can take care of himself on the feet. The in-between has been a problem with very high-level guys. So now you start to have a question of, is Oliveira a really high level guy? Is he that high enough of a level guy? I don't have the answers to these questions. I'm just sharing for you, however this goes, the fans are going to get something very special."
Comments
comments