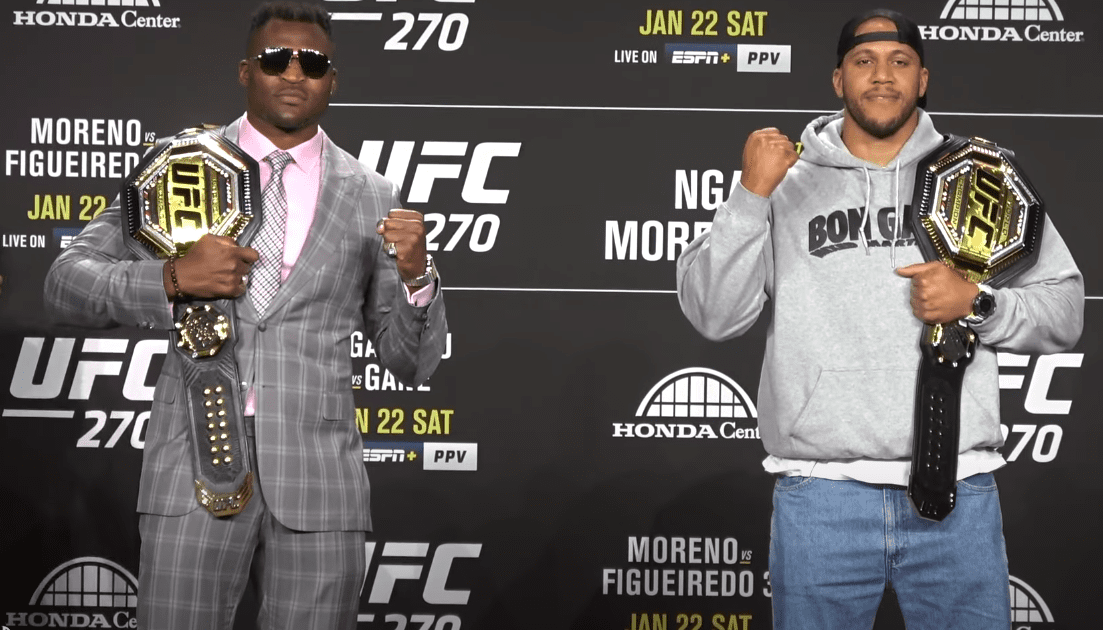 Ciryl Gane is one person that wants Francis Ngannou's contract situation with the UFC resolved.
The Frenchman lost a decision to Ngannou in the UFC 270 main event on Saturday night, falling to the Cameroonian champion's grappling heavy approach after Gane had appeared to open an advantage on the feet in the early rounds.
Ngannou's future remains unclear. He disclosed after the fight that he is suffering from several knee complaints which will likely require surgery and some time on the shelf to heal, while also still being involved with a contract stand-off with the UFC brass which, on the surface at least, led to a frosty reception from Dana White before, during and after Saturday night's fight.
But as far as Gane is concerned, he wants this one back.
"If he leaves like that, I don't want that," Gane said post-fight. "I want my rematch. I want to do this fight a second time. I want this fight, I want this rematch."
Gane also refuted suggestions that any animosity between the two fighters spilled over into the Octagon and hindered his performance — after pre-fight talk of sparring sessions and exactly who had knocked who out several years ago.
"No, I was really focused on my mission," Gane stated. "All the stories around this fight were just stories and it was not a burden for me, I was just focused on my target. If we have a rematch, I'm gonna be focused, but I'm gonna improve on my weaknesses.
"This is reality," he added. "This is hurting me a lot, but it's the truth and I hope tomorrow I'm gonna improve. I'm gonna do more to be a better version of myself."
But as far as the fight goes at least, there is no hard feelings.
"At the end of the fight, I knew already," he said. "I'm really intelligent, I'm really aware, and I knew he won this fight."
Comments
comments