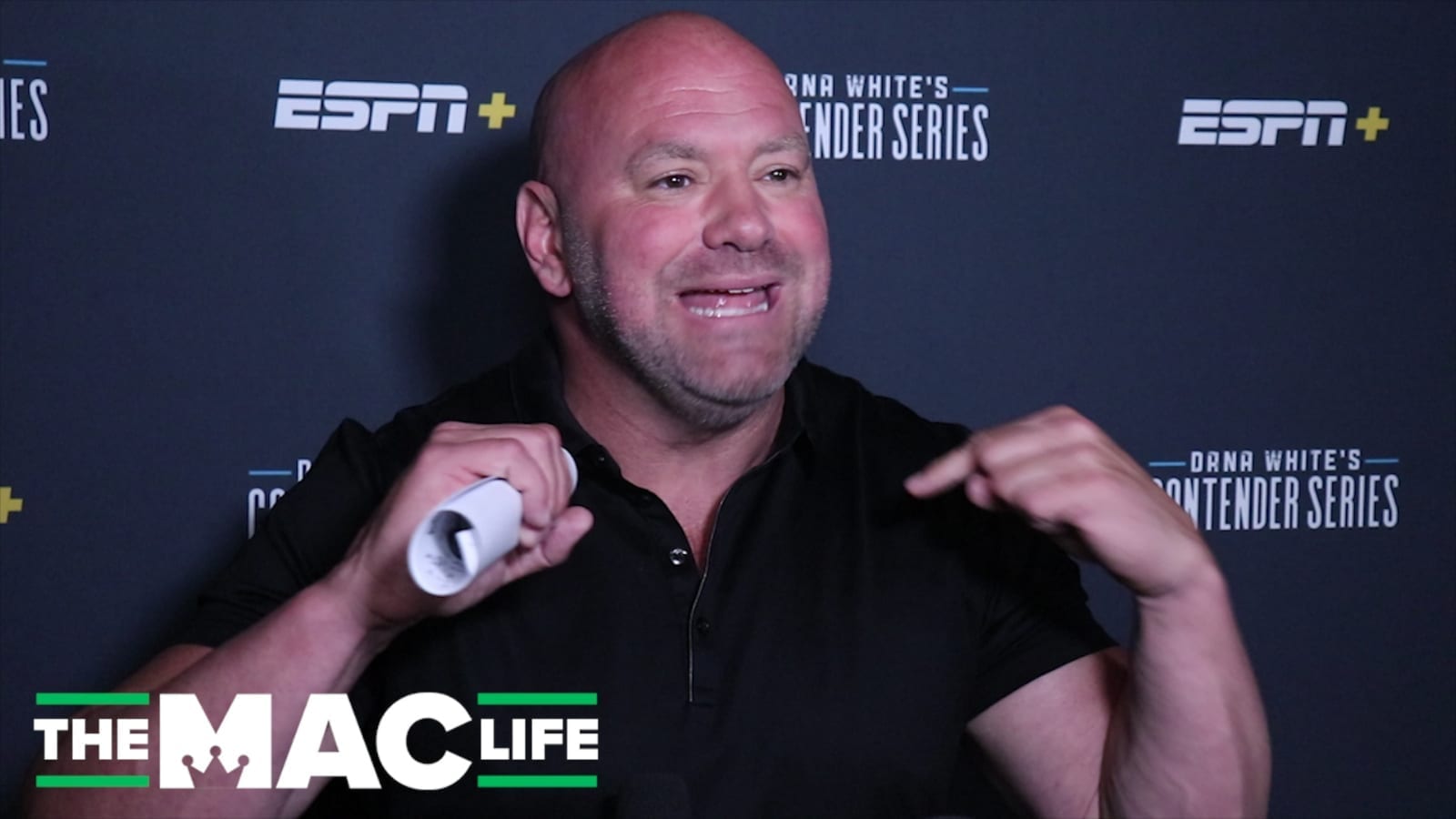 It's been a while since we've seen Dana White go on a rant about one of his fighters, but it seems the recent back and forth with Cris Cyborg has grown tiresome for the UFC president.
White and Cyborg have been in a public dispute since her last fight against Felicia Spencer at UFC 240, after which White announced he would not be challenging any other promotion's offer to sign her now her UFC deal has expired.
To further the drama, Cyborg's team released a video of herself interacting with the UFC boss backstage after her win over Spencer, but the footage garnered controversy after the attached subtitles didn't match what White said.
Cyborg subsequently apologised for the video and the incorrect editing. Apology or not, however, it seems White is still content with no longer having Cyborg on his roster.
"Dealing with her has been a nightmare the entire time she's been here," White said, speaking in a media scrum following episode seven of the Contender Series. "It's been a bad experience dealing with Cyborg since Day 1. We brought in her after she tested positive for steroids and we made her a clean athlete with the best drug testing policy in all of sports the entire time she was here. When she talks about her legacy and her brand, her legacy and her brand, nothing's better than knowing she's a clean athlete after testing positive for steroids and all the negativity that surrounded her about being a dirty athlete. We bring her in here, we do all this stuff and she was just never happy.
"Never happy, complaining about everything – she was a nightmare to deal with, and at the end of the day she knows, I know, Amanda Nunes knows, I tried to make that Nunes fight. She doesn't want it. She doesn't want it. She gets mad when I say I don't blame her. I don't blame her. If that was Amanda Nunes [she fought at UFC 240] I think everyone can agree what would've happened in that fight. She's unhappy, we're unhappy, she lies and does that thing. See ya later. Have a nice life.
"I don't think there's any peace between me and Cyborg. Whether you like me or you don't like me, whatever your opinion is it doesn't matter. What she did was dirty. It was dirty what she did with the video and all this other stuff in it. Meanwhile she's out here saying she better get an apology from me? Yeah. I got an apology from her. Because what she did was one of the dirtiest things. It had to kill her to apologize to me. Kill her to do it. But what she did is one of the dirtiest things you can do to somebody. That's why she apologized."
Despite the obvious ill feelings, White maintains he wouldn't do anything different with Cyborg should he have the opportunity to go back.
"No, I wouldn't do anything different," White said. "The one thing I'm glad I did was I pushed her to make sure she fought Amanda Nunes, because she didn't want that fight the first time, let alone the second time. She wanted Cindy Dandois or Pam Sorensen. Those are the fights she wanted, and she was turning down Amanda Nunes. I said, 'That's not going to happen.' So we kept pushing and pushing and pushing and finally we got her to take the Amanda Nunes fight. I'm happy I did that. Other than that I wouldn't change one thing in the last five years on Cyborg."
As footage of White's comments hit the internet, Cyborg was quick to respond via social media, specifically answering White's frustration about her team's edited video.
Once I discovered what had been done by production I could not wait to apologize. I have prayed many times that one day myself and @danawhite could talk face to face about our differences and find a way to move on. I am never too proud to offer an apology.

— Cris Cyborg Youtube (@criscyborg) August 7, 2019
Cyborg is believed to have a exclusive period to negotiate a new contract with the UFC, but White has maintained he won't hold Cyborg to that should she wish to talk to other companies.
Comments
comments