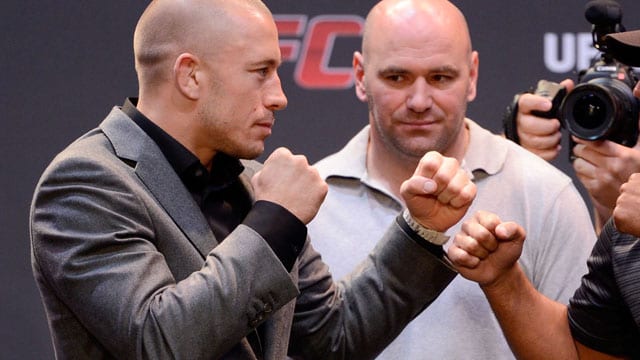 Dana White still believes Georges St-Pierre's heart isn't in fighting.
The UFC president has been one of the loudest naysayers towards St-Pierre ever since the former welterweight champion announced his intention of returning to the Octagon earlier this year. When St-Pierre eventually did come back and defeat Michael Bisping at UFC 217, it seemed for a moment that White would be forced to eat humble pie.
Except.
St-Pierre vacated the belt a month later, citing serious health issues and a desire to not hold up the middleweight division. For White, it seems a moment of justification, particularly in light of the fact he's been forced to make Robert Whittaker — whom White long suspected that St-Pierre would avoid fighting — the new champion.
Now, with St-Pierre on the sidelines for an indefinite amount of time, the question now shifts from "who's next?" to once again becoming "is there a next?" Ask Dana White, and he'll be pretty firm in his stance. Hint, it hasn't changed.
"There is no status," White said, speaking with ESPN. "I knew what he was doing. That's why I put [a mandatory title defense] into his contract. We both knew what was going on. I don't know, man. I don't think the guy wants to fight. I think he jumped in, grabbed some cash and went back to Canada."
And even with recent rumblings from St-Pierre's team that a mega-fight against Conor McGregor could be a spectacle, White is emphatic that should the Canadian return (again), he'll be doing so under more usual terms.
"He ain't fighting Conor McGregor," White said. "If he wants to come back, Tyron Woodley or Robert Whittaker is waiting for him. They're both waiting, if Georges wants to come back."
Comments
comments