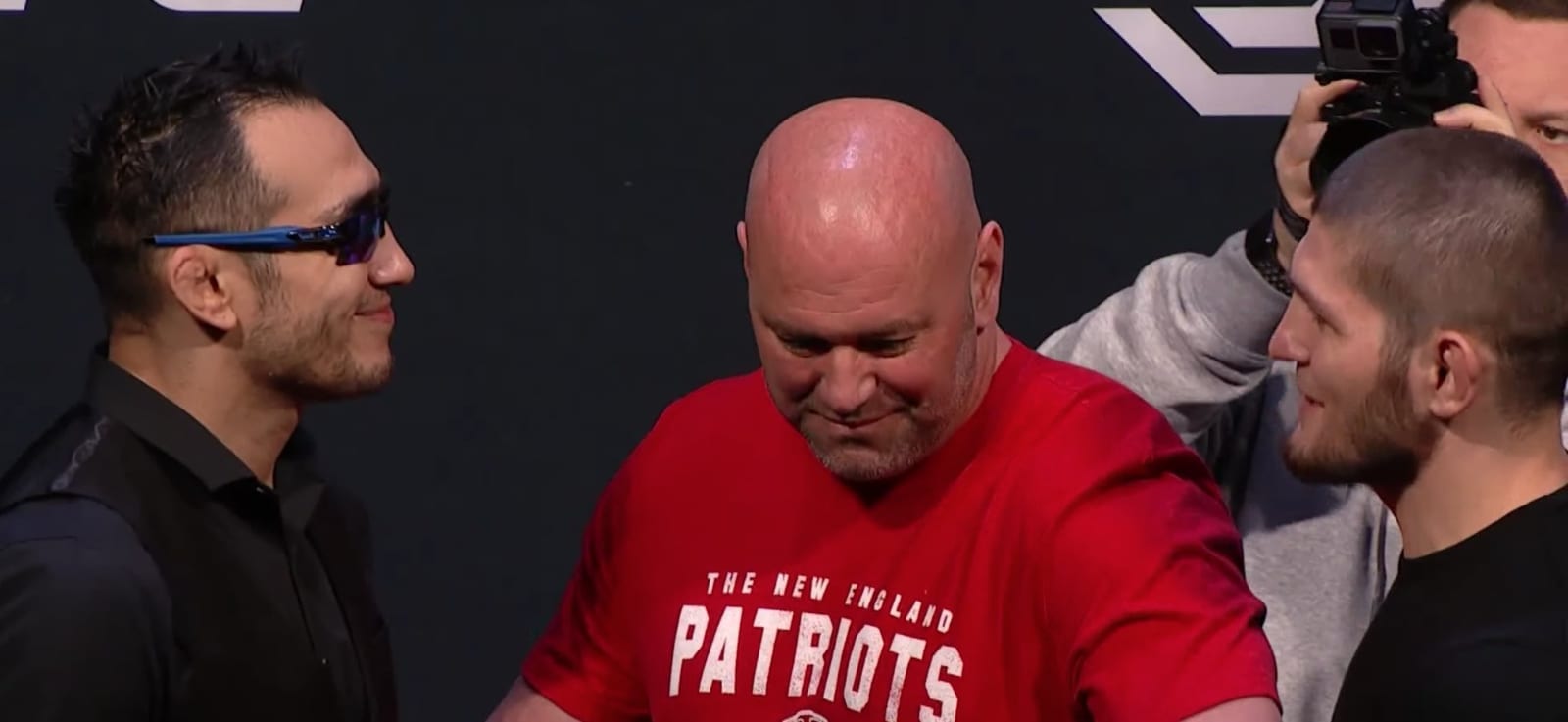 There were some questions ready to be answered at a UFC press conference in Boston today, but there were still a few remaining by the time things were done. UFC president Dana White may have introduced Tony Ferguson as 'the champ', but he avoiding saying that Conor McGregor was no longer one.
There's plenty to digest. McGregor has been the champion since handily defeating Eddie Alvarez at UFC 205, a victory that made him the only man to hold two titles (featherweight and lightweight) simultaneously. Following that, the Irishman stepped into boxing for the biggest fight in history with Floyd Mayweather, leaving the 155-pound division searching for a contender.
In his absence, Tony Ferguson captured the interim lightweight title, beating Kevin Lee at UFC 216 last year. When Khabib Nurmagomedov returned to action in December, there were murmurs that the promotion — inspired by Nurmagomedov's performance over Edson Barboza — could be looking to book the Russian against the interim champion. And, with McGregor looking to return later this year, the UFC have indeed elected to schedule that contest.
Where the confusion comes is in who the promotion recognises as its official lightweight champion. While White stated that the bout between Ferguson and Nurmagomedov was for the undisputed champion, and made mention that McGregor wasn't yet ready to return, he didn't answer questions by Brett Okamoto and Ariel Helwani as to whether or not McGregor had been stripped
As such, there still remains a level of uncertainty over the lightweight division.
It's the fourth time the UFC have tried to make a Nurmagomedov vs. Ferguson fight. The pair have been officially scheduled against each other multiple times, only for injuries or similar to cancel the clash. Most famously, at the beginning of last year, Nurmagomedov was forced to pull out of their UFC 209 contest on the morning of the weigh-ins, having been hospitalised after a particularly bad weight cut.
Now, they're set to meet each other in Brooklyn, New York, at UFC 223 on April 7. The winner will most likely meet Conor McGregor upon his return.
Comments
comments