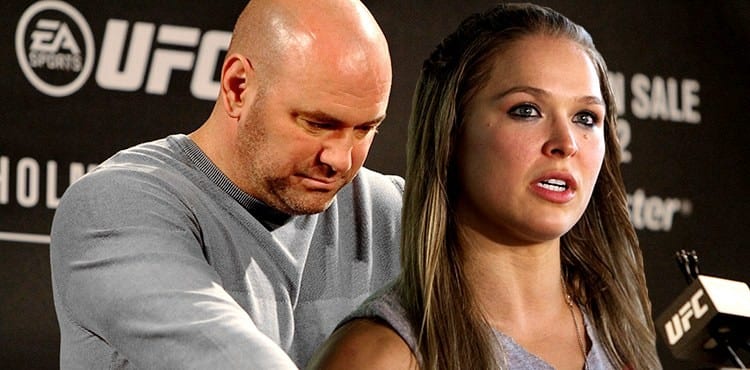 Dana White says he expects Ronda Rousey to formalise her retirement at some point in the future, but for now the former women's bantamweight champion of the UFC is still a member of the roster and remains part of the USADA testing pool.
Rousey has kept a low profile since losing to champion Amanda Nunes last December at UFC 207. With that being her second defeat on the bounce following losing her title by headkick knockout to Holly Holm a year before, UFC president Dana White suggests the women's MMA pioneer has already stepped away from the sport albeit unofficially.
"I think people realize she's probably going to retire," White said in a recent interview with ESPN.
Some fans and pundits alike have noted how Rousey has withdrawn from the sport, particularly following her two recent defeats. White says that there is an obvious reason for this.
"That's the way Ronda Rousey is built," White explains. "Ronda Rousey is super competitive and doesn't like to lose. I know she's been criticized for that by a lot of people, but that's just who she is and the way she is.
"And the way she is, is what made everybody get behind her. It's what blew up the women's divisions. Now she's going to move on to the next chapter of her life, get married and have kids, do that thing. It's not sad, it's the way she wanted it."
Of course, you suspect that a door back to the UFC will always be left slightly ajar for Rousey should she ever feel the competitive itch once more — particularly given her status as one of the sport's true top draws, though White has resisted that urge with several UFC stars since their own retirements.
"I've never been one of those promoters that looks at, 'Oh, imagine how much money I can make if Ronda Rousey comes back' or the Chuck Liddells, all those guys. I'm actually the guy who, when somebody even hints at retiring, says, 'I think you should retire.'
"No matter how big of a star you are, once you've retired, you should probably stay retired and move on, build that next chapter of your life."
Comments
comments