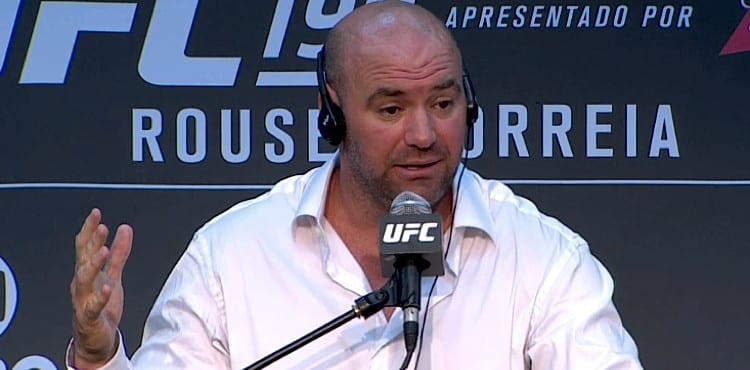 The relationship between the UFC and USADA has been, while successful, on occasion stressful for fighters and the promotion's bosses alike.
Names like Jon Jones, Junior Dos Santos, Mirko CroCop and more have been noted as test failures by the anti-doping agency, often bringing chaos to already scheduled events and bouts.
That being said, according to UFC president Dana White, there are still avenues to take that could deter cheating in the ranks. Speaking with Sports Illustrated on Thursday this week, White was asked about former UFC light heavyweight champion Jon Jones most recent test failure (for a steroid at UFC 214), and whether or not there could be harsher punishments for drug cheats.
He didn't say no… but stopped short of saying yes.
"I don't disagree with that," White said. "But USADA deals with that, we don't. We're out of that business. We leave it to the professionals. But yeah, I don't disagree."
White was then asked to comment on UFC middleweight champion Michael Bisping's recent assessment that if a fighter (such as Jon Jones) has repeated run ins with USADA, or are proven to be cheaters multiple times, they should receive a lifetime ban from the sport.
It's not as simple as all that, says White.
"Legally, USADA would have to handle this thing," White said. "And whatever USADA says, [Jones is] going to have to follow that punishment, because they work hand-in-hand with the athletic commission, wether its Nevada or California or whatever it might be — which is essentially the government.
"So the government works with USADA, and they figure out what the ban is going to be. But if it came back that Jon Jones would get a three month suspension, legally owe him a fight. I legally owe him a fight, I have a contract with the guy."
Comments
comments