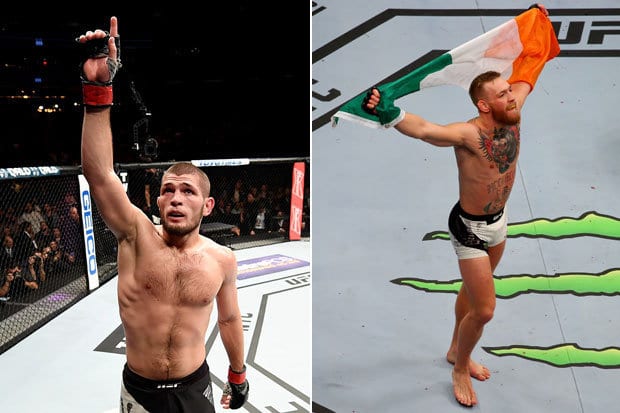 Everyone knows that Conor McGregor enjoys a challenge —  his boxing match with Floyd Mayweather is a perfect example of that.
Every time the Irishman fights, he appears to up the stakes as much as he can. So, fans may ask, what could possibly be a raise in stakes after a hundred million dollar fight with Mayweather?
Well, how about completely stepping into enemy territory?
According to UFC president Dana White, the UFC lightweight champion has informed him that following the Mayweather boxing match on August 26, McGregor's next desired challenge is to face Khabib Nurmagomedov — in Russia.
"You know what Conor told me? 'I want Khabib in Russia,'" White said, speaking with MMAJunkie. "Isn't he fucking awesome? He's like 'I want Khabib, in Russia.' He's awesome. Conor McGregor is a fucking unicorn. There's nothing like him. He's working on boxing Floyd Mayweather and then he's talking about fighting Khabib in Russia right after."
It would be a huge deal. Nurmagomedov is hugely popular in his homeland, and has even bragged about the size discrepancy between his own country and McGregor's native Ireland.
While the Russian has a bout with Tony Ferguson to come first, after Nurmagomedov was forced to withdraw from that fight earlier this year, a fight with McGregor would likely be huge business.
To do it in Russia, the UFC's first event held in the country, would be even bigger.
"Those are the kind of things that make that kid a fucking superstar," White said. "I've got guys telling me, 'I don't want to shit – I don't want to fight this guy, and I don't want to do this.' [McGregor says], 'I want Floyd Mayweather then I want fucking Khabib in Russia.' How do you not love him? How do you not love Conor McGregor? Amazing."
Nurmagomedov and McGregor have something of a quiet rivalry. The two came head to head in a verbal altercation at UFC 205, which was caught on video backstage.
—
Comments
comments