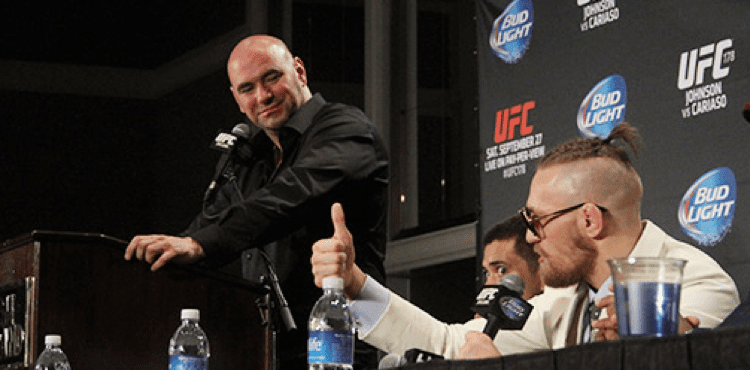 Even with two world titles in two different weight classes, Conor McGregor is underrated.
So says UFC president Dana White, who fresh off his announcement of McGregor's latest bout — a UFC lightweight title fight with Khabib Nurmagomedov — paid tribute to the Irishman. According to White, McGregor's ability to promote contests with his notorious trash talk has caused fans and pundits to take away from his very real fighting ability.
"This is a very important fight for both fighters," White said, speaking with ESPN. "For Khabib, who's undefeated and looked at as one of the best in the world. Beating Conor is massive for him. And obviously for Conor, coming back from a two year lay off — in my opinion, and it's crazy to say this because of how popular he is around the world, he's one of the most underrated fighters in the UFC. Everybody thinks because he speaks so well, and because he's so crazy and everything, it makes him sort of less of a fighter. It's the weirdest thing I've ever seen.
"When you talk about pound-for-pound best in the world, this is a guy who's actually living proof of pound-for-pound. He jumps from weight class to weight class and fights people in different weight classes, he boxed Floyd Mayweather, and he's literally willing to fight anybody in the world who thinks they're better than him. And that's what makes him so popular. This isn't a crossroads fight, this is another fight to cement his legacy as one of the best to ever do it."
McGregor vs. Nurmagomedov takes place October 6 in Las Vegas, Nevada. It is already touted as likely being biggest fight in mixed martial arts history.
Comments
comments