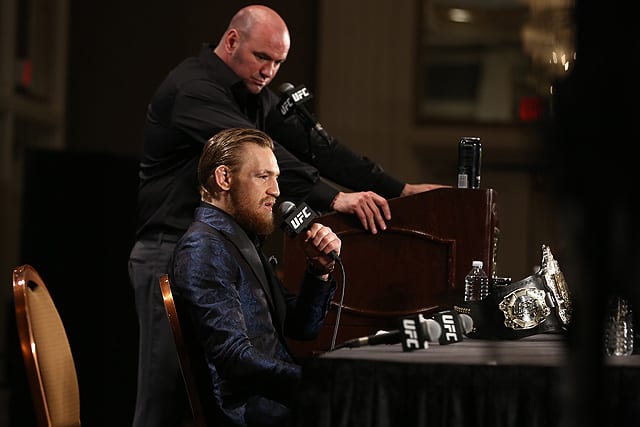 Dana White is well aware of the impact Conor McGregor has had on his business, and believes he can be pointed to as the first star of the UFC that truly became an attraction worldwide.
The Irishman burst onto the scene in 2013 and rapidly became one of the most popular fighters on the UFC roster. His run through the featherweight division is still regarded as one of the most entertaining eras in MMA history.
According to White, McGregor's rise to prominence both echoed and eclipsed that of fellow names in the sport.
"The way that it works in the UFC, these guys that become these big stars become partners," White said, speaking on Eddie Hearn's Talk the Talk. "They become partners in the pay-per-view and selling the pay-per-view, and that's how we all make money. … From the Chuck Liddell's to the Anderson Silva's to the Georges St-Pierre's to the Jon Jones, Ronda Rousey. They all brought something different to the table.
"Whether it was Georges St-Pierre building the Canadian market for us. Whether it was Anderson Silva in Brazil. Ronda Rousey bringing in women that would never watch the UFC in a million years. The difference between all of them and Conor McGregor, is Conor McGregor took us global. Everybody on Earth loved Conor McGregor and Conor McGregor opened up territories that had never been that interested in us before. Maybe we had a small fanbase there, but he blew the whole country up. He's the first guy that truly was a global star."
While that level of star-power gives the names mentioned some extra bargaining power in negotiations, White maintains that — even in spite of personal issues he may have with some of his athletes — it also brings the fighter and the promotion closer together.
"The key to the relationship with these guys … you're not always going to agree on everything. Jon Jones and I do not agree on something right now. We're having a disagreement," White said. "But Jon Jones is a partner in this business. Conor McGregor is a partner in this business and the list goes on and on. So when you get to that level and you become a star or a world champion like these guys are, they're a partner. And [Jones and I] don't agree right now on things, and we're gonna fight, we say things that are going on in public right now, and eventually you get to a point where you get tired of fighting and you figure it out. It's like any other relationship."
–
Comments
comments