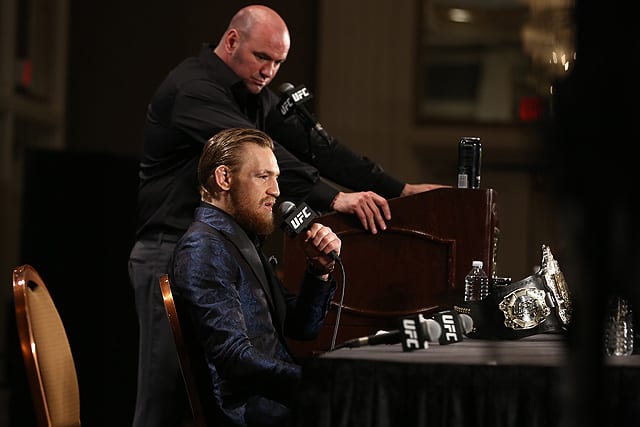 UFC president Dana White believes Conor McGregor wasn't just having fun earlier today when he tweeted out "okay, I'm back."
McGregor was responding to the UFC's newly designed championship belt, the first of which will be given to the winner of Saturday night's Henry Cejudo vs. T.J. Dillashaw. And according to White, McGregor absolutely wants to get his hands on the new strap.
"It's one of the main things I love about Conor McGregor: The belt means a lot to him and being a world champion means everything to him," White said, speaking with ESPN in an Instagram Live segment earlier. "I love it. … 100 percent (it's still everything to him). 100 percent."
McGregor has been out of the Octagon since his fight with Khabib Nurmagomedov at UFC 229. Currently, both he and the Russian are awaiting a decision from the Nevada State Athletic Commission for their respective parts in a post-main event melee in the T-Mobile Arena. The commission are set to meet on January 29.
In his time outside of the Octagon, McGregor has introduced his whiskey line 'Proper 12', something which has added significantly to the Irishman's bank account. But despite his growing wealth, White believes McGregor's passion for fighting will eventually shine through — and that opinion apparently stems from conversations he's had with McGregor himself.
"When a guy starts to make crazy money, life-changing money and he's in one of those positions where he's not just making it from the fights -– he's making it in other businesses that he has going on right now -– you find out what people are all about, how passionate they are about what they do when the money comes," White said. "Conor and I still communicate regularly and he's very fired up about coming back and becoming a world champion again."
Comments
comments