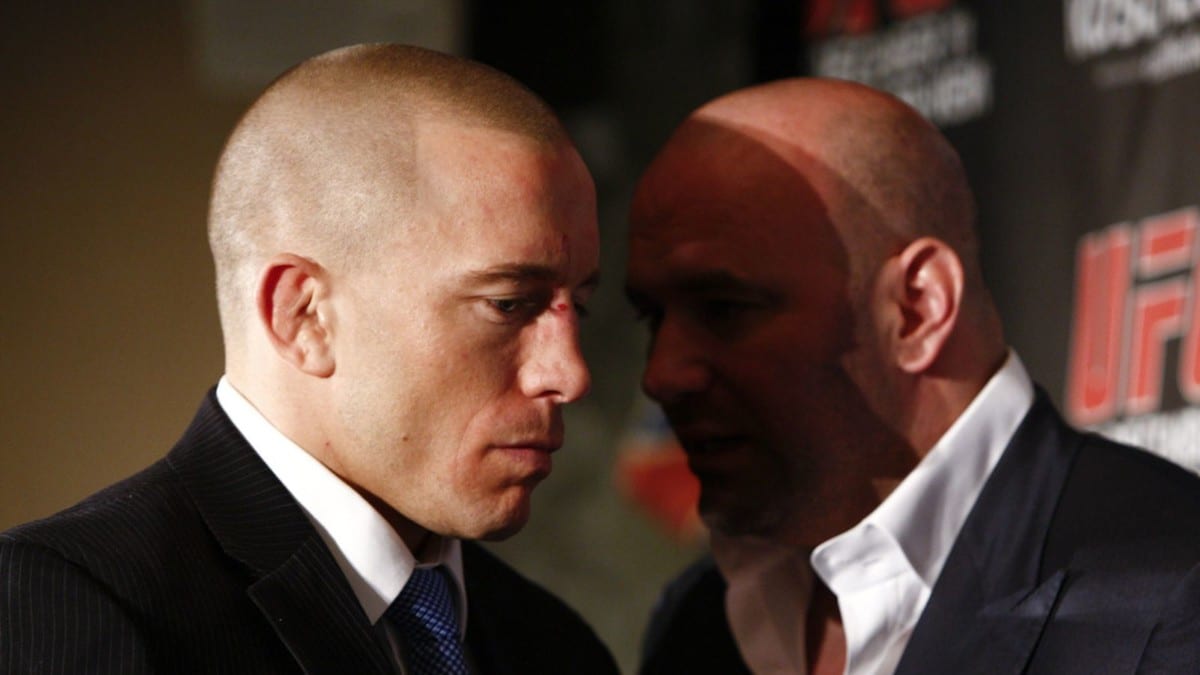 Georges St-Pierre, who won the UFC's middleweight championship in his last bout with the promotion in November, could be set for a return two divisions south according to comments from Dana White who confirmed that he is hoping to pair St-Pierre with Nate Diaz at UFC 227 in August.
St-Pierre relinquished the 185-pound title just weeks after claiming it from Michael Bisping late last year, revealing that stomach issues would indefinitely keep him from the cage but now it appears that the Canadian is ready to consider a return to the octagon. Nate Diaz, meanwhile, hasn't competed in the UFC since a majority decision loss to Conor McGregor at UFC 202, despite White claiming that he regularly offers the Canadian a fight proposal.
The chance to compete opposite St-Pierre, a proven draw in the UFC, could be enough to entice Diaz from his self-imposed hiatus and it would also offer him the opportunity to avenge the defeat his older brother Nick suffered when he challenged GSP for the welterweight title five years ago.
Speaking on the UFC Unfiltered podcast, as reported by MMANYTT, White said of the Diaz/GSP rumours: "It is true and they would fight at 155-pounds. There are rumours, what did I see? That we were doing Gustafsson and Rockhold, that is true, but that's not for the interim title, that's false. It might be LA, I'm targeting LA."
UFC 227 is set to be topped by the bantamweight title rematch between T.J. Dillashaw and Cody Garbrandt and the addition of proven commodities such as St-Pierre, Diaz as well as Alexander Gustafsson and Luke Rockhold would signpost the Aug. 4th card as one of the UFC's premiere events of 2018.
"In my perfect world, if everything goes perfect, and nothing ever goes perfect in this world, [it will be] Dillashaw vs Garbrandt, GSP vs Diaz would be the co-main, Gustafsson vs Rockhold and Brunson vs Antonio Carlos Jr. It's very interesting."
While negotiating with Nate Diaz has proven to be easier said than done in recent times, there's it little denying that if White and his matchmakers manage to put this card together the eyes of the MMA world would be watching.
Comments
comments