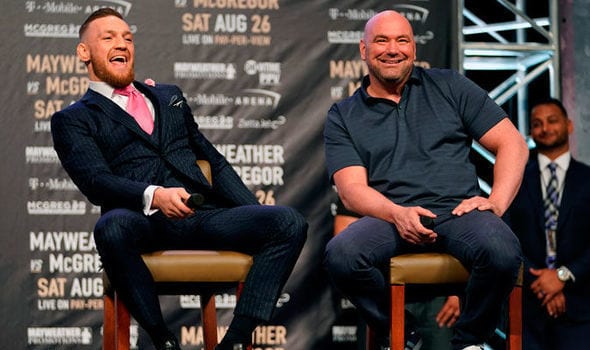 Dana White wants Conor McGregor to fight. Conor McGregor wants to fight. The issue is, it seems, neither man wants it to happen without a crowd.
Today in Jacksonville, White revealed he's been in talks with the Irishman regarding a return, but admitted the finances that come via ticket sales for a McGregor show is hard to leave on the table. That being said, considering the coronavirus pandemic will likely see large crowds banned for the foreseeable future, it might be a loss both men will have to deal with.
"It's tough to give up a Conor McGregor gate. It's tough to do. I talked to him yesterday and he wants to fight and he's excited about tomorrow too. He was like, "This is so awesome. Good luck tomorrow. Hope this goes off'," White said.
"He doesn't like the idea of fighting without a crowd either, but he wants to fight. You know, so, I don't know. We'll have to see how this thing plays out. You do a Conor McGregor fight in the right place, you can do an $18 million gate. That's a big number to give up. I mean, even giving up $5 million, I mean, this fight was supposed to be [Khabib/Ferguson and it] sold out in minutes, and it was like five and a half million dollar gate.
"I don't know. I don't know the answer to that yet. Um, it's going to depend on how long this thing goes. I don't know. I don't know if anybody understands this whole thing. And you know, depending on what network you're listened to, they tell you different things, and jesus christ, you go on the internet — forget about it. I mean, it's fucking crazy, right?
"I don't know how long this thing's going to last, or, you know, who knows? We're just gonna put on fights, man. That's what we do and it's what we're going to keep doing. And hopefully, I don't have to do this for two years with no gate."
Comments
comments