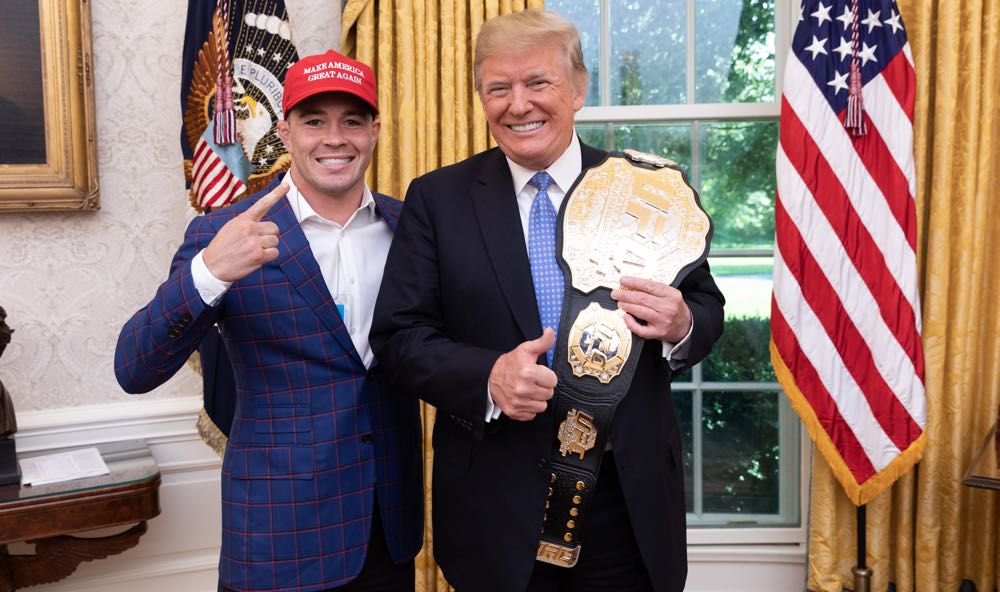 Colby Covington might not be fighting Tyron Woodley for the undisputed welterweight title, but he did get another meeting he'd been desperate for.
On Wednesday, Covington and UFC president Dana White travelled to the White House in Washington D.C. to meet Donald Trump, president of the United States. It's the end result after a public campaign by Covington to meet the leader of the free world.
"I did everything I said I was going to do," Covington said, speaking after winning the interim title at UFC 225. "I told everybody I was going to make the welterweight division great again, and now I'm going to celebrate how a real American should celebrate winning a world a title, and that's going to the White House to see Mr. Donald Trump and put this on his desk, unlike the Filth-a-delphia Eagles disrespecting our flag and kneeling for the national anthem."
That title is set to be taken from Covington the moment the main event of UFC 228 — Darren Till vs. Tyron Woodley — begins.
Like @POTUS @realDonaldTrump always says: Promises made. Promises kept. Pleasure to finally meet you Mr. President. Thank you for always putting America first! #maga #GreatAmericanWinningMachine 🇺🇸 pic.twitter.com/yYZWkdd5wS

— Colby Covington (@ColbyCovMMA) August 2, 2018
.@POTUS @realDonaldTrump and @UFC's @DanaWhite in the Oval Office earlier today at the @WhiteHouse…. pic.twitter.com/JC9jPsn4zm

— Dan Scavino Jr. (@Scavino45) August 2, 2018
–
Comments
comments