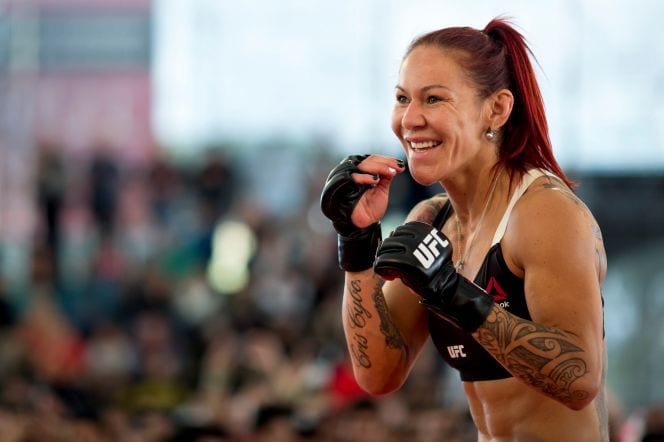 It's beginning to seem very much like a case of square peg/round hole when it comes to Cristiane 'Cyborg' Justino and the UFC.
Cyborg, considered by many to be the best overall female fighter in mixed martial arts, has struggled to find a role in the UFC in her two fights with the organisation so far. The 31-year-old, who entered the UFC as the reigning Invicta featherweight (145-pound) champion, has taken two UFC fights at a 140-pound catchweight — a weight limit which straddles the bantamweight and featherweight divisions.
The problem with that is such: Cyborg has to cut a considerable amount of weight to even make 145-pounds, a notion which was emphasised by footage released by her camp of the visibly shaken fighter attempting to cut the final pounds for her 140-pound bout with Lina Lansberg last September.
Cyborg was vocal last week in asking the UFC to create a women's featherweight division for her to compete in. If they don't, she said, she would be forced to continue her mixed martial arts career elsewhere.
"The main thing is that I have two fights left in my division," Cyborg said, speaking with El Comercio. "I'm going to stay in my division, and see if the UFC opens up my division, or if they don't do it, I'm going to leave."
"If I don't have a division in the UFC, I'm going to go to another company like RIZIN or Bellator or another organisation where they have my division. I'll keep fighting for that."
However, this is an assertion that UFC president Dana White refutes.
Speaking with Matt Serra and Jim Norton on the UFC Unfiltered podcast, White explained that Cyborg has already turned down two separate women's featherweight title bouts in the UFC.
"Well what's crazy about that is this", White explained. "I offered Cris Cyborg a title fight at 145 pounds a month ago. She had eight weeks to get ready for it, she said she couldn't make the weight. She said she couldn't make 145 pounds.
"So then I offered her another 145 pound title fight for Brooklyn. She turned it down. She's turned down two 145 pound title fights. One because she said she couldn't make 145 pounds in eight weeks. And Joe Silva's like, 'if she can't make 145 pounds in 8 weeks, 145 isn't the right weight class for her either'."
White's claim that the UFC has offered to create the division that Cyborg wants will come as a surprise to many. He says that Cyborg has turned down fights with the likes of Holly Holm and Germaine De Randamie, citing concerns over her ability to make weight in an eight week time-frame.
"First we offered her the fight against Holly Holm, and then we offered the fight against Germaine (de Randamie)." said White. "We offered her a 145 pound title shot, she had eight weeks to get ready for it and she said that's not enough time to make the weight. 'I can't make the weight in eight weeks'."
"This whole thing about making weight. First of all, obviously when we did the deal with Cyborg we sat down with her and said 'listen, ya know, if you can make it down to 135 pounds maybe we can hire a dietician and help you get there and get you in the mix, get a couple of fights with these girls and then fight Ronda for the title'.
"She was all in, I mean that's why she signed the deal. Then she was having a hard time doing it so she cut down to 140. Then this whole thing about I can't make 140 lbs. Finally we just said 'fuck it, alright then, we'll make a 145 pound title for you so here you go'. She said 'I can't make 145 pounds in 8 weeks'. So then we offered her the fight in Brooklyn and she turned that one down too.
"Just for the record, Holly was so excited for that fight but her coach Mike Winkeljohn said that's not the right fight for Holly. So Holly had to turn it down so we went with Germaine and Germaine wants the fight."
However, White's claims appear to have been met with a disbelief in Cyborg who contradicts that she has turned down fights — as she posted on Twitter this afternoon.
10 years they won't make my division. Now they are saying I turn down fights? Why don't they talk about the side effects from my last cut

— #UFC208 (@criscyborg) December 6, 2016
It very much looks like this one might rumble on for a long time yet.
Comments
comments