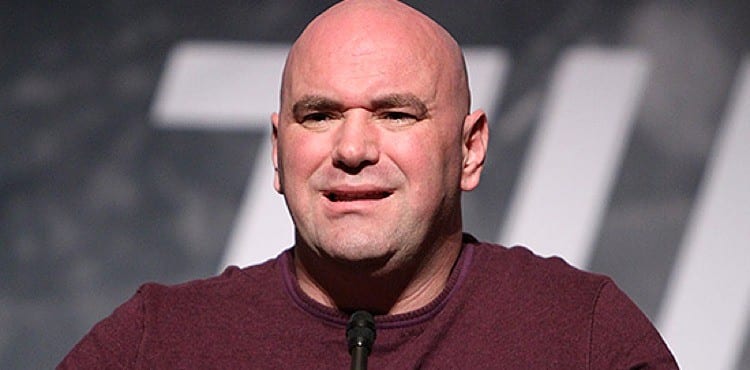 While Brendan Schaub might have moved on to other things in his career after a stint in the UFC, it seems UFC president Dana White doesn't have a whole lot of respect for the former heavyweight.
Today on his Instagram, UFC middleweight Israel Adesanya posted a clip of Schaub discussing the enthusiasm for exciting strikers entering the UFC after stints in kickboxing.
"I think everybody is all high and mighty on these guys who come from kickboxing, boxing backgrounds, when they come over to the UFC, they expect them to be elite strikers," Schaub says. "The distance, the combos, the head movement, the number of variables, it's a completely different game, so to me that never translates."
Adesanya, a brand new prospect at middleweight, was clearly unimpressed with Schaub's opinion, attaching bored and unimpressed captions/gifs over the top, and even closes his laptop lid to silence 'Big Brown'.
But while Adesanya's fans were quick to comment their agreement, few agreed more than White himself, as evident by his reaction to the video.
"Such a fuckin tool!!!!" White commented. "What the fuck does this idiot know about the sport or the business??? @stylebender for u to be listening to one word from this MORON is a waste of ur time. Guy went 6-5 in the UFC!!! The only thing he could teach u is how to get KO'd. Tune idiots like this OUT."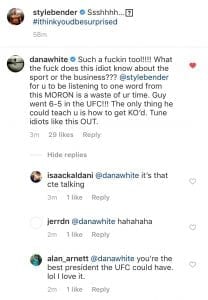 Update: Schaub eventually replied to Dana White, although took time to clarify to Adesanya that he wasn't referencing him with Schaub's original comments.
Dana White blasted Schaub in the comments, Schaub responded then backtracked about the video. pic.twitter.com/eiaZ4RhYc9

— Justin Golightly (@SecretMovesMMA) July 12, 2018
—
Comments
comments