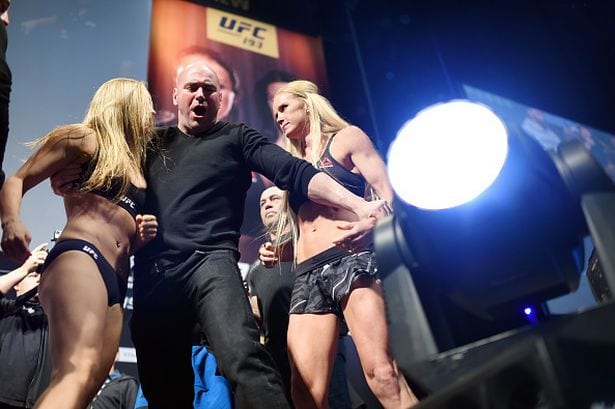 When Holly Holm knocked out Ronda Rousey with a stunning head kick, it marked one of the most stunning upsets in UFC history. With Rousey established as one of the biggest stars in the promotion, Holm's win was (at the time) pointed at as a worst case scenario for the UFC. According to UFC president Dana White, it was completely the opposite.
Instead, despite his close friendship with Rousey, White believes the Holly Holm fight at UFC 193 was the best example of his promotional abilities. After all, he remembers, not many were giving Holm a chance prior to fight night.
"When we put together fights, my job, because everyone is going to have an opinion right away saying, 'This guy is going to win!' — My job is to get you to question who you think is going to win this fight," White said, speaking during a lengthy interview with Tony Robbins. "So I need to gather all the information I can get on both guys and then I need to sell you on why this fight isn't going to go the way you think it's going to go.
"I would say my best [example of that] is Holly Holm versus Ronda Rousey," White said. "I did a really good job with that one. When that fight came out the odds were incredibly huge that Ronda was going to win that fight. Nobody gave Holly a chance. I said, 'Ronda's never fought anybody like this. Holly striking, her head kicks, her this, her that.' Even Joe Rogan said, 'There's no way Holly Holm wins this fight.' Not only did we sell the fight, but Holly Holm won the fight."
–
Comments
comments