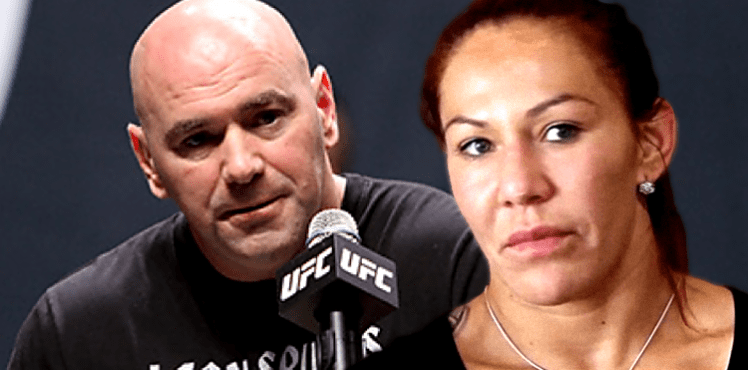 Dana White says he will release Cris Cyborg from her UFC contract, and will not match any offers she receives from other MMA promotions.
It brings to an end one of the most tumultuous relationships between the UFC and a fighter in recent times. White made the announcement in a sit down interview posted to the UFC's YouTube page on Friday.
"My job as a promoter is to put on the best fights with the best fighters in the world, for the fans and for myself and the company," White said. "I did that. I got Amanda Nunes and Cyborg together, and they fought. And we answered the question. Who is the best female fighter on Earth? It took 51 seconds of the first round to find out.
"Now I tried to make the rematch. Cyborg can say whatever she wants, I have this all documented. We have all this documented. This is a real company, and we document everything that we have. She wanted to fight Cindy Dandois or Pam Sorenson. And I told Cyborg we don't make those fights here. That's not what we're doing. You're going to fight Amanda Nunes. And it was a huge back and forth that went on forever, and then finally she agreed, and she ended up fighting Amanda Nunes, and we saw how that fight ended."
Cyborg faced Felicia Spencer last Saturday at UFC 240 in a fight that was surrounded by her out-of-cage situation. The last fight on her UFC deal, Cyborg had repeatedly labeled White a liar for his version of events regarding a rematch with Nunes, with the UFC boss saying Cyborg had no interest in a second fight.
Following her win over Spencer, Cyborg argued with that narrative emphatically, saying White was lying and she'd directly requested a rematch. Speaking at her post-fight press conference, the former featherweight champion said she was willing to remain with the company, but that things had to change before she committed pen to paper. One of her demands was a public apology from White for his 'bullying' that had devalued her brand.
It seems White wasn't willing to meet those terms, and while Cyborg technically has a period where the UFC are able to exclusively negotiate with her, she made it clear she was going to wait that time out until she was able to speak with other companies.
White, it seems, has brought that date forward.
"Now there's all this talk about.. I'm trying to 'devalue her'," White said. "All this other bullshit that she's putting out there, again, to avoid fighting Amanda Nunes. Message received, I get it. I'm going to release her from her contract, I will not match any offers. She is free and clear to go to Bellator, or any of these other organisations and fight these easy fights that she wants. Done. Done deal. I will literally today, have my lawyer draft a letter to her team that she is free and clear to go wherever she wants.
"We are out of the Cyborg business."
In truth, regardless on which side you fall, the UFC-Cyborg relationship never worked even from the beginning.
Prior to the Brazilian's arrival in the promotion, White (alongside huge star Ronda Rousey) had publicly insulted her repeatedly. When Cyborg did eventually arrive, and it seemed both parties were willing to put those harsh words behind them, there began an odd period where Cyborg had to fight at an arbitrary catchweight of 140-pounds.
Eventually, while the UFC did introduce Cyborg's natural featherweight division, both parties remained consistently far apart on the value of Cyborg as a brand and an athlete.
On White's part, he maintains there's never been any personal ill will from himself to the fighter.
"I don't know what it is, but bad strategy," White said. "I don't hate Cyborg. I'm not trying to destroy Cyborg. All this craziness that she's talking – do you know how many fighters I've dealt with over the years. People I really didn't like. Like Tito [Ortiz]. Tito doesn't like me, and I don't like Tito. And we haven't and we didn't, but we still got fights done. We still did business.
"Look at the Jon Jones stuff that has happened and many, many other things that have happened with different fighters. But we get through it. We figure it out. We get through it and we move on. But this is a completely different animal than anything I've ever dealt with before.
"This is a woman that doesn't want to fight the champion no matter what she says," White said. "I am giving up my rights to her contract to matching her contract to anything. I'm giving it up. There you go. You're not being bullied. Nothing like that. I'm going to let you go.
"If you don't want to fight Amanda and you don't want to be here that bad, then why would I want you here?"
Comments
comments