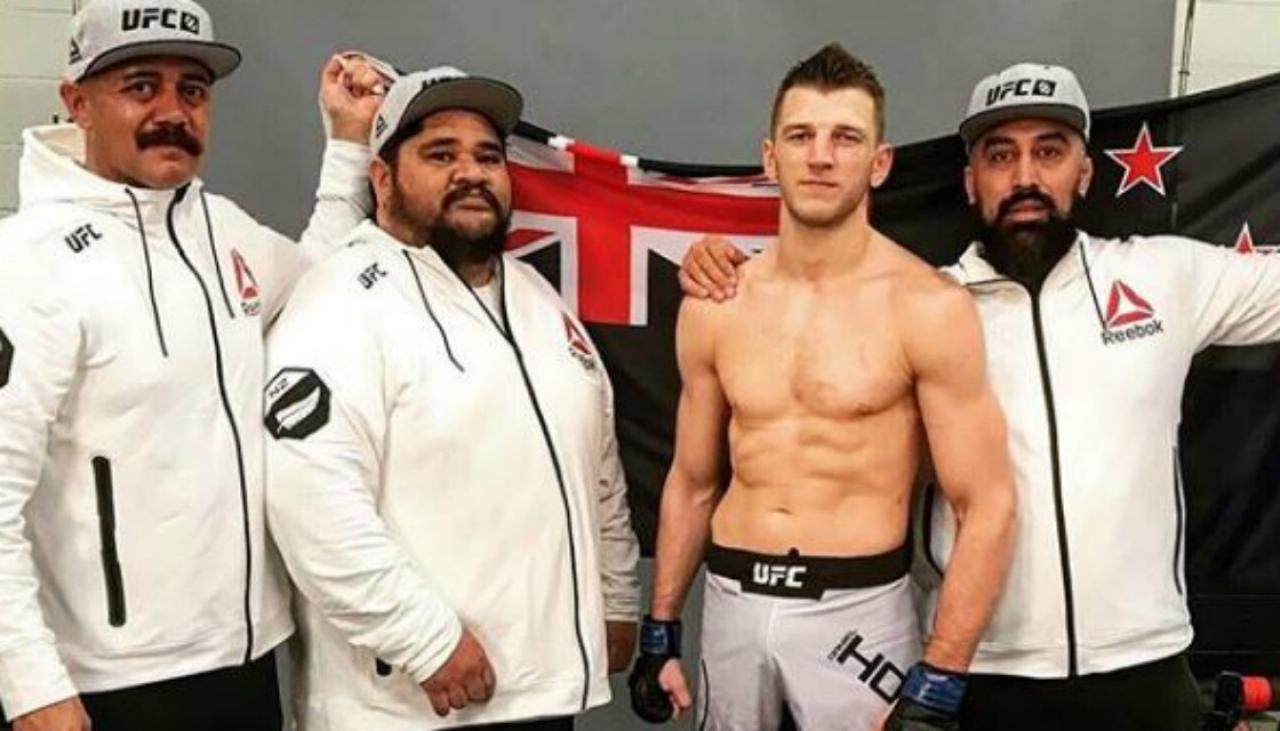 After competing a test weight cut to 145-pounds, Dan Hooker says that he is seriously considering the prospect of continuing his career at featherweight — and wants the 'Korean Zombie' Chan Sung Jung to be the man to meet him there. 
Kiwi fighter Hooker has consistently been one of the most entertaining fighters in the UFC's lightweight division but a run of three losses in his last four has led to him considering a drop back down to 145, where he fought the first six fights of his UFC tenure.
Hooker told The Mac Life recently that that he was seriously considering the move, later posting to social media evidence of him stepping on the scales at 146-pounds, and as he told Ariel Helwani on The MMA Hour via MMA Fighting, it's a move that might just make sense at this point in his career.
"That's a strong possibility," said Hooker of the move. "The problem was I didn't really ask, I just talked to Jordi [Sullivan] and Charles, my dieticians, and that was it really. I just talked to them and just went along and got the job done and did it. I haven't even talked to the UFC about it, so maybe Sean Shelby's seen it, maybe he hasn't. We'll see."
45 look alive. pic.twitter.com/JU0pl0tKkV

— Dan Hangman Hooker (@danthehangman) November 23, 2021
As for his motivations for doing so, Hooker says it is time to maximise his natural advantages.
"For one, it's just an advantage that I haven't been capitalising on if I'm being honest," Hooker said. "There's a number of advantages that I haven't been capitalising on, but that's just one of them. So it's kind of moving forward and learning from the past. You have to make adjustments for the future and that's just one of them.
"Getting back, working with my team, that travel opening up to the world. I'm excited for the future. I feel like featherweight is the weight class that I can really thrive at and it's a weight class where I can really capitalise on all of my advantages."
Of course, a new weight class brings with it some different challenges and one fighter that Hooker says that he would love to test himself against is one of the most crowd-pleasing fighters ever seen at 145-pounds.
"Head and shoulders, the No. 1 guy that I would love to get in there with would be 'The Korean Zombie,'" he said. "I would love throw down with 'The Zombie.'
"So I don't know what the people were saying, that's why I just put it out there, stepped on the scale, made the weight, and I feel like you just let the people decide. Whoever the people want to see me in there against will kind of convince the UFC. What everyone wants, everyone can get, but for me it would be head and shoulders 'The Korean Zombie.'"
Comments
comments