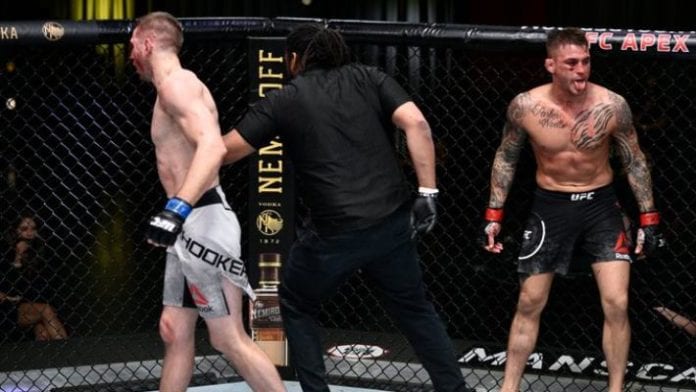 When Dustin Poirier walked across the Octagon to talk to Dan Hooker after their fight ended, it was clear some of the pre-contest talk had irked the Louisianna native.
Poirier referenced Hooker's apparent interest in a Justin Gaethje fight, as well as told Hooker he was on "the right track" in something of a backhanded compliment. In the end, Hooker says the two solved their issues after a chance meeting post-fight at the hospital.
"We both went to the hospital, we ended up next to each other, but there was like a curtain in between us," Hooker said, speaking to Submission Radio. "… And he's like, 'Dan, is that you?' and then I hit him up about it. Because he was hitting me up about kind of looking through him and that's what people were saying, I was looking past him. Talking about next opponents, but it's what I said to him, 'Bro, that's who I was going to fight if I win, and I already knew who I wanna target if I'm coming off a loss'.
"That's just the way I am. I just like to plan things. It's not like I'm looking through him, it's not that I went out there planning to lose, but if I lost I still know who I want to fight next to get back on track. I just explained it to him and then he said, 'Yeah man I understand, I understand', and then we just talked about our daughters. He's got a young daughter as well, and we just wished each other all the best.
"You go 25-minutes with a man, and they can go the whole time and put on a show like that, it's a level of respect that you don't really have for anybody else to be honest."
Comments
comments