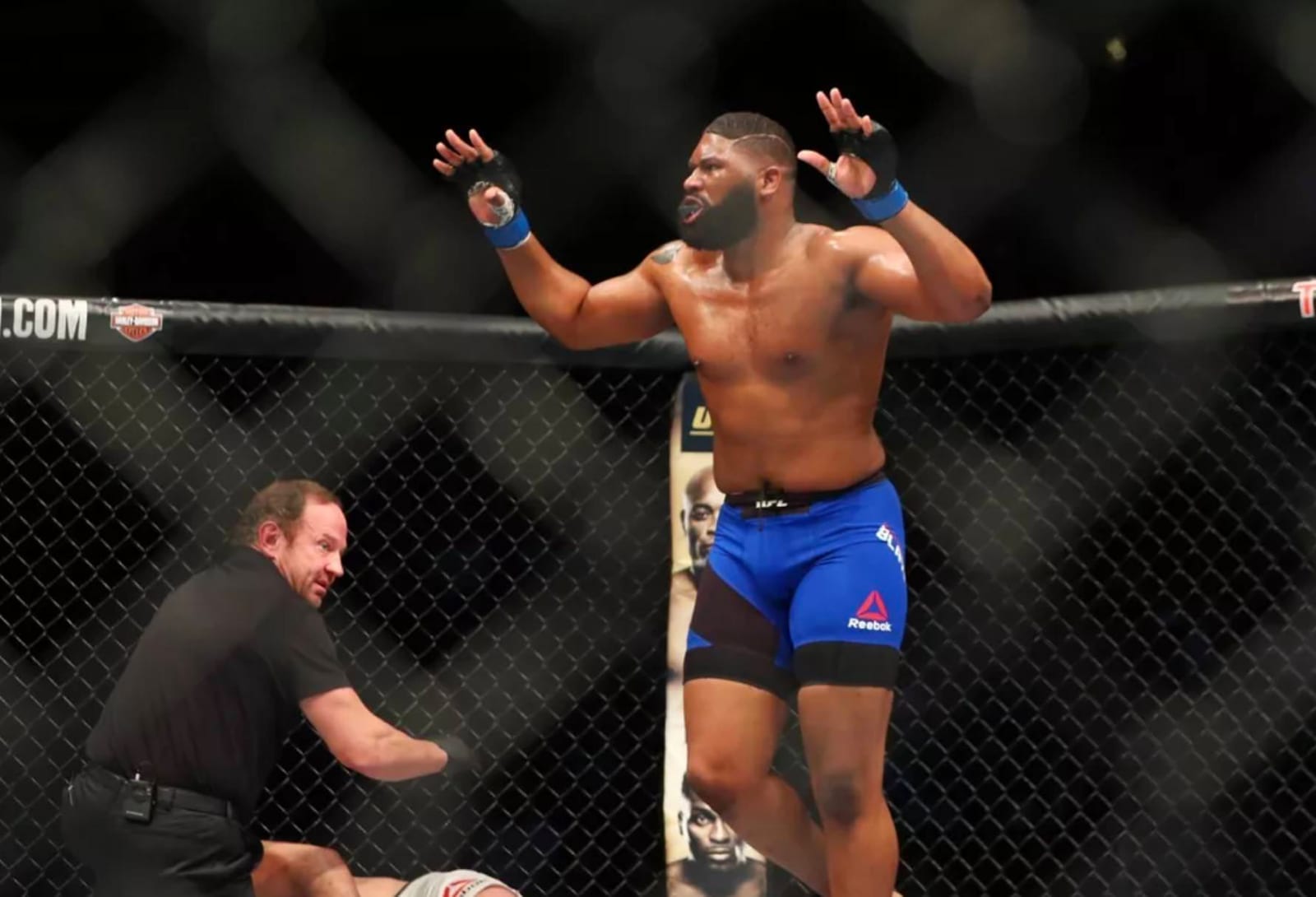 When it comes to heavy hitters in the UFC division, Mark Hunt and Francis Ngannou would likely be near the top of any list. Now, following UFC 221, Curtis Blaydes has a claim that few else can make — he's been hit with big shots by both Francis Ngannou and Mark Hunt, and remained standing afterwards.
Blaydes defeated Hunt last Saturday night in Perth to push himself further up the rankings and reinforce the idea that he could be genuine new blood at heavyweight. While the audience in attendance were less than enthused with Blayde's wrestling heavy performance, the 26-year old withstood a first round barrage from Hunt that left his legs trembling underneath him.
It's not the first time Blaydes has shown he's had a chin. At UFC Fight Night 86 in his promotional debut, Blaydes met heavyweight contender Francis Ngannou, losing after having his eye swollen shut. While he might have come out second of that fight, he did something that few else have been able to do — take Ngannou's punches and remain conscious.
As the only man to do so against both Hunt and Ngannou, Blaydes is in a unique position to offer his thoughts on who hits harder. Lucky for the curious, he has a definitive answer.
"I debuted against Francis Ngannou. He was the heaviest hitter I've ever faced. Ngannou hits harder than Mark Hunt," Blaydes said at UFC 221's post-fight press conference. "No disrespect to Mark Hunt. They both hit hard, but Ngannou hits harder. So, I knew I had a chin. I've taken shots from everyone. I get hit. I'm a wrestler, I don't have the best head movement, so I get hit a lot. I know I have a chin. I know I have heart."
Blaydes has certainly shown an evolution since that loss to the Cameroonian. So much so, that with heavyweight champion Stipe Miocic recently proving that wrestling can topple Ngannou's strength, people are asking if Blaydes couldn't come out of a rematch the victor. While he certainly thinks so, he won't be pushing for it until it happens.
"The Ngannou rematch will happen. I don't have to force it," Blaydes said. "We're both among the younger heavyweights in the division right now. I know the UFC is looking to have exciting matchups. It has a storyline. It's gonna happen."
–
Comments
comments