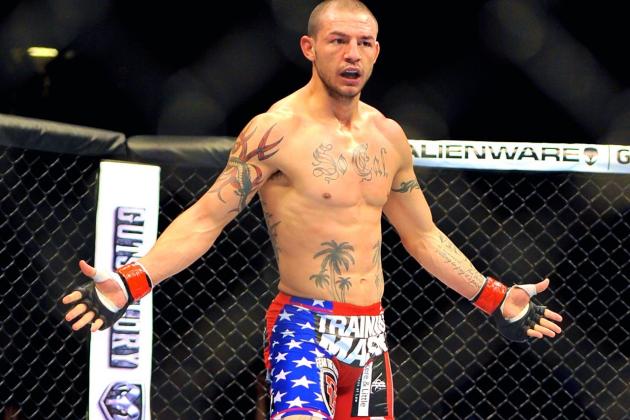 Cub Swanson's unanimous decision over Dooho Choi at UFC 206 is already being considered one of the best fights of 2016 but, even with those plaudits coming his way, Swanson says that the fight shouldn't have gone the distance.
Both fighters, but more so the South Korean, took some heavy shots throughout the three-round affair and one more than one occasion it looked as though referee Dan Miragliotta was contemplating ending the contest. Ultimately, though, it went the distance and speaking on Monday's edition of The MMA Hour, Swanson said that Choi's corner should have thrown in the towel and ended the fight themselves.
"I was doing a lot of damage and I wish his corner would have thrown in the towel", Swanson said as transcribed by MMAFighting.com. "Especially in the third, I could see it in his face, he was in there with all heart. He's a young, talented fighter taking damage like that."
It's a rarity in mixed martial arts for corners to through in the towel. While it does happen, Swanson suggested that when he realised that wasn't going to happen he instead began looking to the referee to call off the contest before his opponent took too much damage. Swanson acknowledged, however, that if the roles were reversed he wouldn't have wanted his own corner to end the bout but he says that cornermen should in general be more concerned for the health of their athletes.
"There were a few times hitting him with flurries where I was like 'Jesus,' I turned my head for a second and was thinking, like, 'are you going to stop this?' When you look back, you think he's already there, and I was like 'man, he won't go down'".
Prior to the bout with Swanson, Choi had won three straight fights in the UFC all inside the first round and Swanson says that his coaches wanted their fighter to 'pick him apart' — a strategy which 'Killer Cub' said he thought wouldn't work against a fighter of Choi's ability.
Swanson had a better idea. He wanted to brawl, regardless of the consequences.
"The crazy thing is, the amount of times I've broken my hands and I've been doing this 14 years and you get a little arthritis and you ache and you hit the bags over and over and over, so if I'm going to do power on the bag I use bigger gloves. It's a padded bag and I don't hit it that hard. I was hitting him with everything I had and it was tripping me out."
The win over the hotly-tipped Choi has propelled Swanson back towards the top of the featherweight fold following a pair of losses to Frankie Edgar and Max Holloway ensuring that there will be more big fights in his future.
While he intends to take the Christmas season off from training to allow his body to recuperate from the fight a couple of weekends ago, Swanson says that he has his eye on the winner of Max Holloway or José Aldo but that he's done "pleading" for big fights.
This time around, he may well have earned it.
Comments
comments