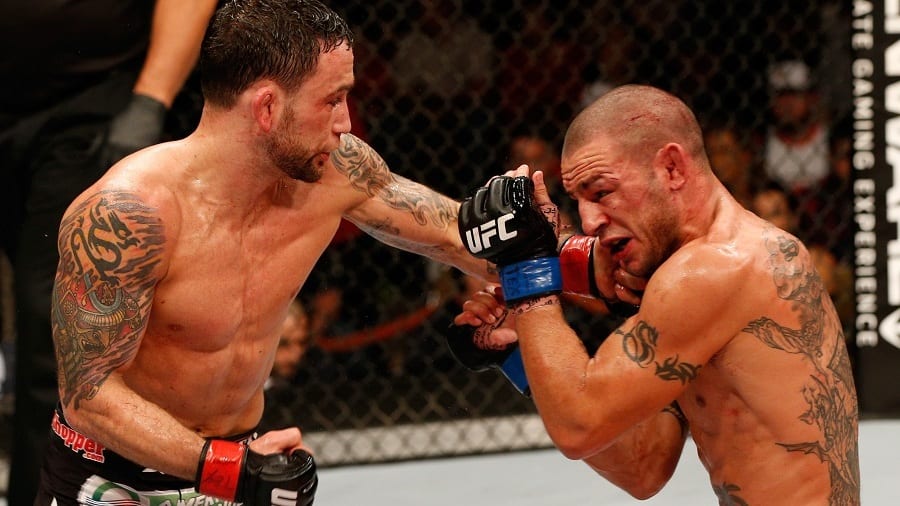 With Max Holloway having some much deserved time off in his native Hawaii following his victory over José Aldo a queue is debate is forming among the featherweight division's elite as to who should get the next shot at the new champion.
Two names which seem to be at the head of the queue are Cub Swanson and Frankie Edgar. Swanson has been in great form recently, wracking off wins against Artem Lobov, Doo Ho Choi, Tatsuya Kawajiri and Hacran Dias. However, prior to this winning streak Swanson came up short in successive bouts against both Holloway and Edgar which, to some at least, will undermine his case to be next in line for a shot at the gold.
As for Edgar, he has been chasing a featherweight title shot for the best part of two and a half years since beating a first round knockout of Chad Mendes back in December 15. The sole loss on Edgar's record since early 2013 has been to Aldo and with the Brazilian now out of the reckoning, temporarily at least, his case to be Holloway's first challenger appears to be a strong one — unless you're Cub Swanson, that is.
Speaking his mind to MMAJunkie Radio, Swanson said: "The reason why I was going to get it over him either way was because Frankie has fought for the title a bunch of times. And when you fight for the title a bunch of times and you don't win, it's pretty hard to sell that. Taking nothing away from him, I respect the guy, I think he's an amazing fighter and he has a win over me, but since then I have been on a tear. And the fact is he is 0-4 in his last four title fights…and the fact that you can get that many title fights is crazy.
"Like I said, I'm just looking for one. I've never had the opportunity and I've been promised multiple times and had it taken away from me. And I've had to rebuild, get better. For 13 years I've been on the grind trying to be the best version of myself and I have never been better than right now. All I'm asking for is an opportunity."
With both Swanson and Edgar having been promised title shots in recent times before having the rug pulled from under their feet it seems that, for one of these fighters at least, their disappointment with the UFC's matchmaking and failed promises will be compounded. A number one contender bout between the two doesn't seem to make much sense either, given the fact that Edgar holds a win over Swanson from the not-too-distant past.
Throughout his UFC career in both the lightweight and featherweight divisions, Edgar has taken part in a remarkable eight title bouts and has wracked up a 3-4-1 record over the course of that time. As Swanson notes, Edgar has lost his last four (twice to Aldo, twice to Benson Henderson) which certainly doesn't strengthen his case.
However, the fact that he hasn't yet faced (or lost to) Max Holloway could stand in his favour when Sean Shelby sits down to map out the future of the UFC's 145-pound frame. And when he does, there's going to be at least one very, very disappointed fighter on their hands.
Comments
comments