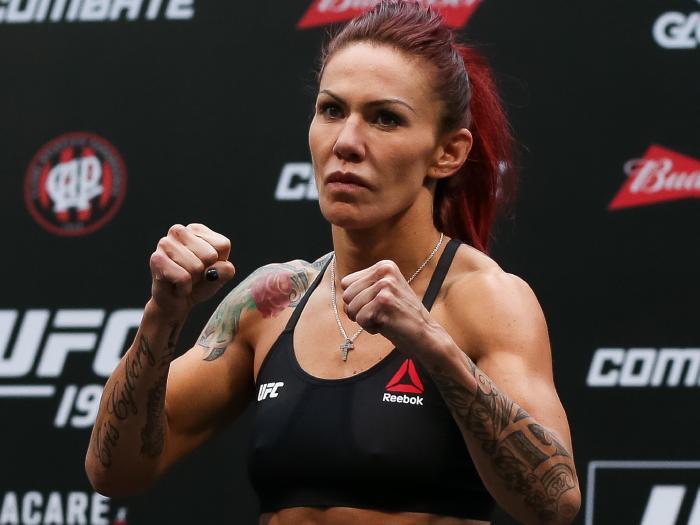 Cris Cyborg and the UFC's relationship continues to be an odd one.
The women's featherweight recently announced her relinquishing of the Invicta 145-pound title so as she could focus on earning the UFC equivalent, but is yet to step foot in the Octagon.
Now it seems, she might not even do so.
MMAFighting are reporting that the woman regarded as one of the best female fighters of all time has two fights left on her contract with the UFC, but also has a clause that states the contract expires in October of this year regardless. Should that happen, it would be an exceptionally bizarre — and disappointing — end to one of the most contentious relationships currently ongoing.
Cyborg's issues with the UFC have been well documented. First, they brought her into the promotion with the idea of putting her against Ronda Rousey at 135-lbs. When Cyborg denied she could shirk enough muscle to make the weight, they began having her compete at an arbitrary catchweight of 140. While she had two successful appearances at that weight, the damage caused to her body meant getting to the 140 bench mark was apparently no longer possible, and the UFC introduced a featherweight (145-lbs) division to accommodate her.
One failed USADA test and a controversial title fight that didn't include the Brazilian later, and the UFC find themselves with a division of two — only the champion doesn't appear ready to defend her belt against the contender.
Germaine de Randamie won the UFC women's featherweight title at UFC 208 against Holly Holm, but mentioned she may need surgery on her hand following that fight. So far, it hasn't clarified if surgery will indeed be required.
For Cyborg, she's made it clear she wants to meet de Randamie at UFC 214 in Anaheim. Whether or not that will happen remains to be seen, but there are simply no alternatives for de Randamie at 145-pounds.
#ufc214 I'm excited to fight in my backyard with my USA home crowd against @IronLadyMMA! @JonnyBones on #ufcanaheim is just a bonus! #letsgo

— #UFC214 #LetsGoChamp (@criscyborg) April 18, 2017
Should Cyborg walk away from the sport's premiere promotion without ever being entitled to truly make her mark, it would be a waste of huge potential.
Comments
comments