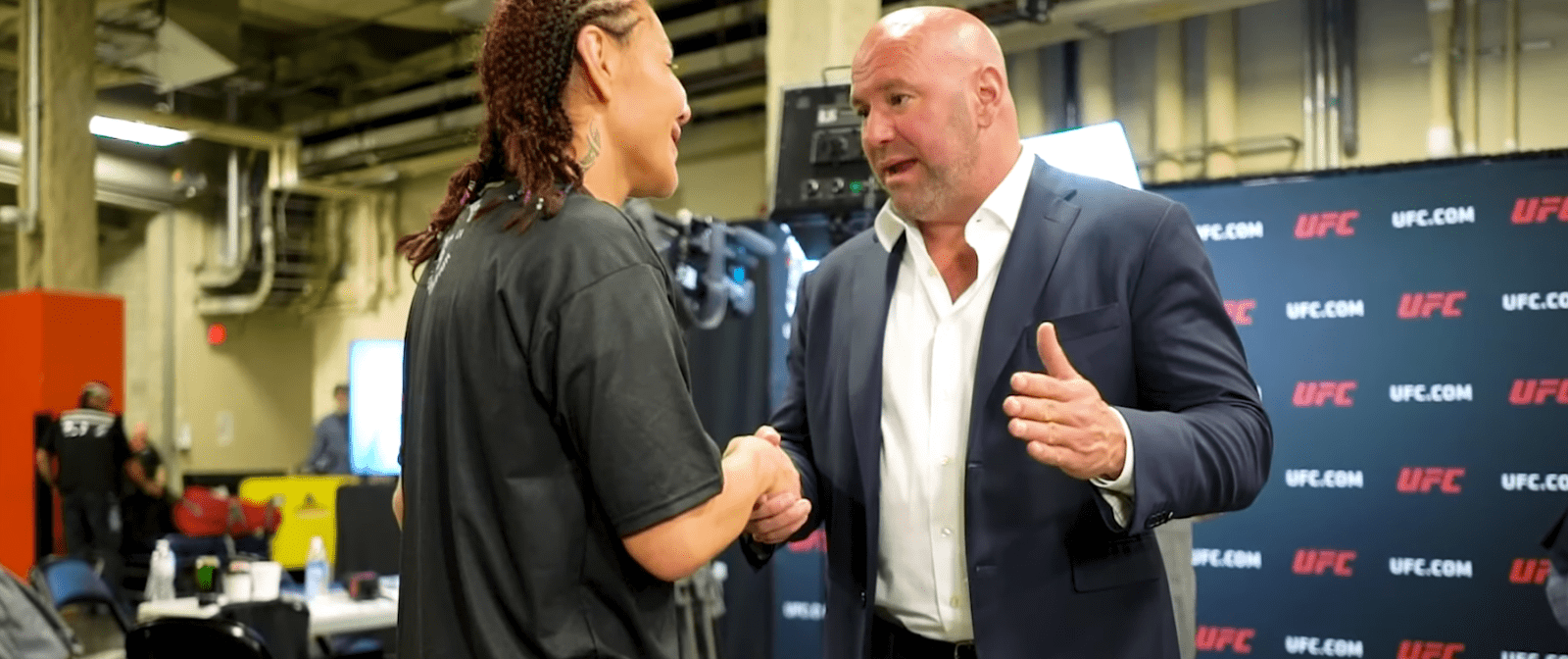 Cris Cyborg's status as a UFC fighter is, at the moment, uncertain.
The former featherweight champion defeated Felicia Spencer in the co-main event of UFC 240 in what was the last fight on her UFC contract, meaning she is now eligible to test the market and receive offers from other promotions.
While that in itself isn't an unusual situation, Cyborg's relationship with UFC president Dana White does raise more questions than normal. For instance, White has repeatedly insisted Cyborg is avoiding a rematch with Amanda Nunes to avoid another defeat, while Cyborg continues to argue the opposite. White says he's not showing Cyborg any disrespect, while Cyborg maintains the promoter has bullied her during her tenure with the company.
Backstage at UFC 240 last Saturday, the pair bumped into each other backstage, where Cyborg approached the boss to talk with him.
"We have to talk, you I know I text you for the rematch," Cyborg said. "After the fight, you know this. Stop lying about it. You know I want that fight and I'm not scared."
"I'm not lying about it," White responded. "I don't know if you know how it played out with management and whatever, but we want to do that fight. I want to do that fight right now. We'll get it done."
After the confrontation, Cyborg spoke to the media at a post-fight press conference, where she was adamant things needed to change before she committed to another deal with the company.
"A lot of things going on, having a lot of issues, me and UFC," Cyborg said. "I'm not complain about anything, but it's not just the fight. Because the people, the media don't see the things inside but a lot of things have to work on for me to continue to stay.
"Everybody knows that I don't have the best relationship with UFC. I don't have the best relationship with Dana White. He's bully me around, bully me on the internet. I suffer bullying everywhere because of this. He never said he's sorry to me about this. … And for keeping me working for promotion, I don't want somebody damage my brand. I want to grow together.
"We're going to have to take a little time and see what is going to be better for me."
Comments
comments