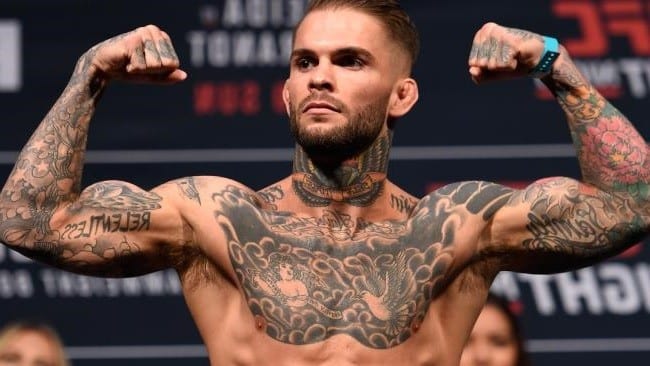 On Saturday in the main event of UFC 227 in the Staples Centre in Los Angeles Cody Garbrandt will attempt to correct an error, as he sees it.
In November the Team Alpha Male bantamweight was knocked out in the second round by his chief rival TJ Dillashaw, surrendering the 135-pound title he held to the one man he you couldn't even contemplate losing it to. Now, months later, he gets a do-over but speaking to the media ahead of this weekend's clash, Garbrandt said that he wasn't fully healthy in their meeting in Madison Square Garden all those months ago.
"What can I do? I pulled out of the fight [for their first date in July]. I had a wife that was pregnant," Garbrandt said via MMA Fighting.
"I fought Dominick Cruz for $200,000 a year before that. I'm trying to buy a house, I'm trying to get insurance, all the things you're thinking you made it, you're a world champion and you've got all this f—ng money but we're not, man. I understand you have to build your way up to it and it's good, but, I couldn't pull out."
"Two weeks before the fight, I had to go to Vegas and get eight epidurals shot in my back so I could heal up and go to the fight week in New York," he added. "I don't regret anything. I'm blessed, being able to be here with [you] now. And I'm healthy and that's the thing, I'm so excited to be here and speak to you guys, I'm excited to be getting into the Octagon."
That said, Garbrandt has sympathy for fighters currently attempting to climb the ladder in the notoriously tough industry.
"You have to live life and now I have to take care of my family. That's why you see all these fighters who want these money fights. You can't blame them," Garbrandt said.
"They go in there and literally take years off our life. For what, $40,000? $50,000, some of these fighters are coming in 10 and 10 so, what, if they get their ass beat and make what, $10,000?
"It's crazy, man. You've got NHL players and MLB players making millions and millions and millions and we're the fastest growing sport in the world. Something's gotta change."
Comments
comments