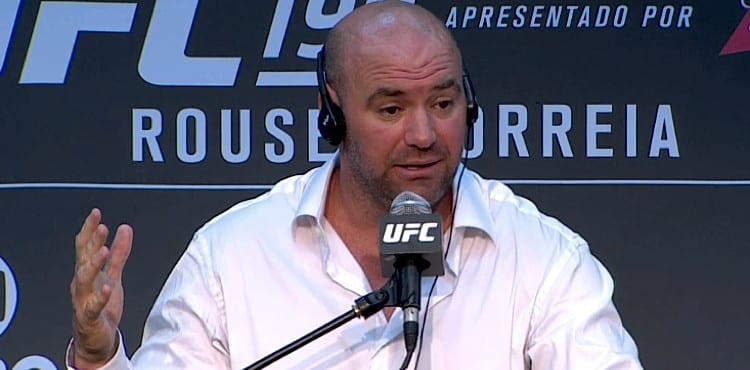 When the UFC signed with FOX networks back in 2011, it was seen as a huge coup for the promotion.
With mixed martial arts long considered to be a risqué, niche pursuit on the fringe of sports, to get onto network television was a tremendous success. And when the first UFC card held on FOX reached (a peak of) 8.8 million viewers, it seemed like a match made in heaven.
Flash forward to 2017, and boy has the landscape has changed.
The UFC's deal with FOX expires next year, and already the company has entered stages of negotiations, with the exclusive window for FOX having opened, the premiere establishment in MMA is potentially looking for a new home.
Even just a year or two ago, it might have seemed like a no brainer. Live sports on television has long been a lucrative venture for all involved, and should the UFC have found a deal to continue broadcasting in the manner they have been on FOX, few eyebrows would have been raised.
Now, much is different these days. Cable television is struggling, and traditional outlets such as ESPN are floundering in a world where media is 'on-demand'. Streaming services such as Netflix and Amazon Prime have rose to the forefront, and have begun to flex their muscles in the world of sport.
So, the big question. With a deal ready to be made, could we see the UFC head the way of streaming services? According to UFC president Dana White, you shouldn't be surprised.
"Absolutely, [streaming services are] all about the change," White said on the Wall Street Journal's Unnamed Podvideocast. "When I grew up, we had channel 3, channel 5, channel 8 and channel 13, and then the channel Sesame Street was on. Those were all the channels that we had, right? Now what's crazy about television these days — I have DirectTV and I have cable, so I have 2,000 channels right? And nothing's on. Nothing's on.
"And I think we have the type of content that people will watch. And every once in a while.. not every fight I put on is a mega-fight that spills out into the mainstream, but I'll get those twice a year. … My kids don't watch television. They're 24/7 on their phone, and if they do want to watch TV, they go straight to Netflix."
Any deal the UFC makes with regards to broadcasting has bigger connotations that just the manner in which consumers view their product.
Last year, the promotion was famously sold for an estimated $4.2 billion, the then biggest sale in sports transaction history. The new owners WME/IMG (who have since changed their name to Endeavour) are reported to have paid such a premium due to some estimates on a cash rise in the new television deal.
At the time, the Sports Business Daily reported that the new owners were looking for a figure of $450 million a year, compared to their current $115 million annually they received with FOX. With the television landscape changing rapidly, and on the back of a, quite frankly, poor year for the UFC, that figure seems to be a loftier goal than ever.
For White, he's acutely aware of the changing situation, as well as the methods in which a young audience view products.
"I think you really see it when you look at ESPN," White explained. "Look how powerful ESPN was five years ago. What they were getting for subs; their subs are dropping, and they're scrambling right now trying to figure it out. … There's no doubt that the internet and OTT [Over-The-Top content] is where it's all going. It'll be interesting to see when the smoke clears who's still around and who's not."
But despite the apparent transitional period media is in, White remains confident of the UFC's position in things.
"These kids these days consume so much information, and they just scroll, scroll, scroll," White said. "Meanwhile, they're talking to their friends, and it's pretty crazy. That's why I love my content. My content works for — my content's quick, exciting and fun to watch on any platform."
Comments
comments