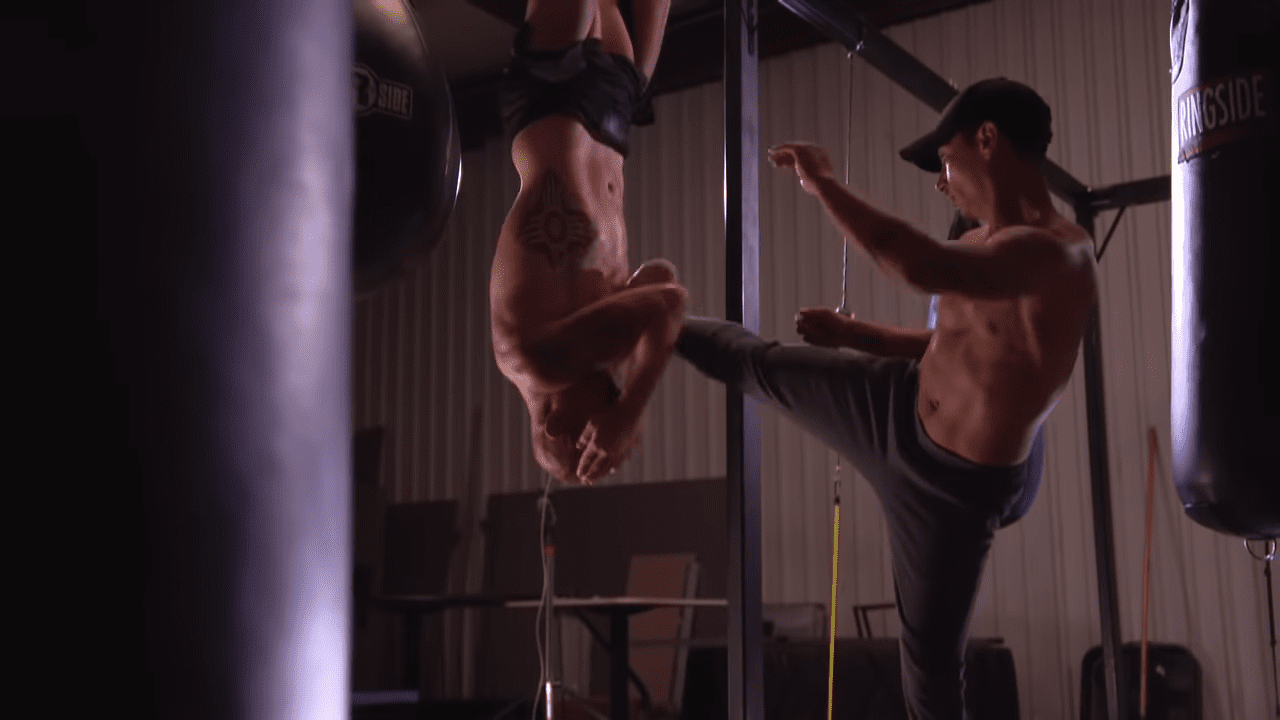 Joshua Fabia, the controversial wellness guru behind 'The School of Self Awareness', has commented on the 'professional split' recently announced by Diego Sanchez which ends their two-year association.
Fabia had been subject to stinging praise from several quarters related to his unusual training techniques which in part included chasing fighters around a cage with a knife as well as recent footage which showed Fabia kicking and punching Diego Sanchez while the UFC Hall of Famer was suspended upside down.
That footage, along with another video showing Fabia berating commentators Paul Felder and Jon Anik during a pre-fight meeting in advance of Sanchez's fight with Jake Matthews, led to Fabia being a much-maligned figure and prompted several notable figures within the sport to state that Sanchez should distance himself from him.
And after that appears to have happened, Fabia is not a happy man.
"Diego was definitely a celebrity," Fabia said to 'Behind the Scenes' with Summer Helene, via MMA Junkie. "He had some celebrity asshole tendencies. He didn't like tipping, and he did some weird stuff in front of me that you know, threw up some red flags. But over time, just talking to him, it kind of just seemed, like I said, the celebrity stuff.
"Things like, you get a divorce and you have a child, but you get a one-bedroom condo. Things just didn't make sense to me, but I'm thinking, 'OK, he's got his own plans. He knows what he's gonna do. Maybe it's just super temporary, like I don't know.' And I'm wondering why he's driving around in a $3,000 Mercedes?' Just questions that throw up flags, but I'm thinking, 'He's telling me he's frugal. He's saving his money. OK.'
"From everything on the outside, as a trainer that's seeing somebody three days a week – I mean, I moved him into the condo. I helped him in the divorce and this little moment and everything seemed pretty much the same as anybody else under these circumstances, to a certain degree.
"As I get to more information, as I'm with the lawyer and the lawyer talks to Diego and asks Diego about his education, and he starts talking about he was in special education," Fabia said. "Holy sh*t. Huge red flags, man. This is not, at all, what anyone who perceived, and Diego is not anywhere near what anybody knows, man.
"And Diego has been an addict. He hasn't told anybody for the past five months, I was his sponsor living with him, that I had to live there because he was broke and lost all his money and strung out on Kratom and alcohol and 30 other substances, that he has sexual abuse issues. No, he didn't say any of that, man, and I've been holding up all this. I've been doing everything, and everybody's coming at me.
"I'll put it out there, I'll put out all the proof, I'll put out all the videos, man," Fabia concluded. "Diego has clearly been taking advantage of me for two years, as I have been fighting for him and putting myself on the line for him with zero benefit. I am the one getting death threats here."
Comments
comments