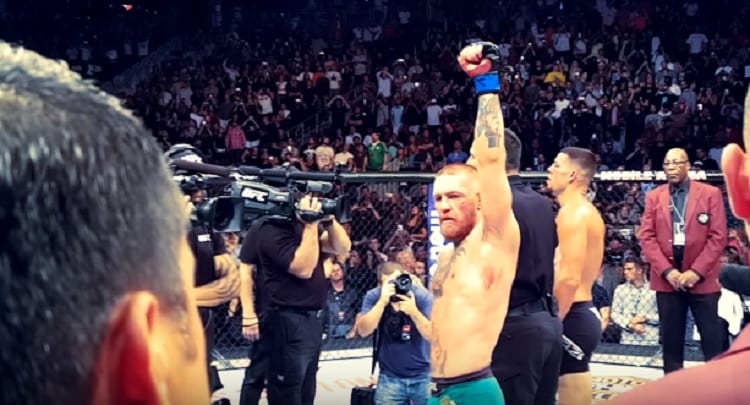 Following his successful comeback against Donald Cerrone at UFC 246 a couple of weekends ago, many a question has been asked as to the identity of Conor McGregor's next opponent.
Several fighters have been linked to the Irishman in the last couple of weeks. Both Jorge Masvidal and UFC welterweight champion Kamaru Usman have indicated that they would be interested under the correct conditions. A rematch with Khabib Nurmgomedov is an option also, though that will depend on status of the seemingly cursed series of bookings opposite Tony Ferguson.
One name, though, is more familiar than the others: Nate Diaz.
The two fighters have come together to form one of the most bankable rivalries in UFC history. Their first meeting, a short notice fight after Rafael Dos Anjos pulled out of a scheduled contest with McGregor, was the Dubliner's first loss in the UFC and was avenged months later in a five-round classic in Las Vegas in the late summer of 2016.
McGregor has spoken on several occasions of his interest in one day getting a third matchup with the notoriously durable Californian and if indeed that does end up being next on his agenda, another former UFC champion forecasts it being a one-sided affair.
"I mean listen, [the fight with Jorge Masvidal] would do great business, but here's my prediction," Bisping said to MMA Fighting. "I guarantee this is what happens with Conor next. He ain't fighting Khabib, because Khabib's fighting Tony [Ferguson] and then he's got Ramadan, and Conor wants to fight again soon.
"He was talking about Nate Diaz, and Nate Diaz 3 will do big business. Conor will smoke Nate Diaz, because Nate Diaz has always been an average fighter; he just built his f*cking career on choking out Conor McGregor. The second fight he got beat, and now because of all his inactivity, Conor will smoke him. So in the meantime, we'll get Conor-Diaz 3 and then he'll fight Khabib later in the year. That's my prediction."
Mystic Mike? Time will tell.
Comments
comments