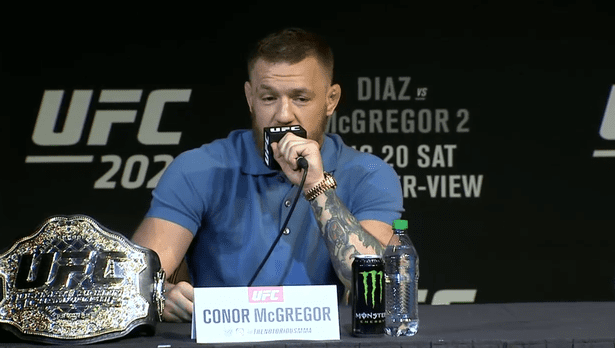 The fine imposed by the Nevada Athletic Commission on Conor McGregor for his part in the UFC 202 pre-fight press conference fracas with Nate Diaz in the T-Mobile Arena last August has been reduced on appeal. 
The news was reported by Damon Martin of Fox Sports.
In a disciplinary hearing in October, the commission voted to fine McGregor 5% of the purse he collected in his win over Diaz last summer — a sum in the region of $150,000 — as well as mandate that the UFC lightweight champion contribute to an anti-bulling public service announcement as part of 50 hours of community service. Later, the NAC clarified their position and stated that half of the $150,000 fine was halved to $75,000 when taking into account the monetary value of the public service announcement that McGregor was asked to participate in.
In the hearing in Las Vegas on Wednesday, McGregor's punishment was finalised at $25,000 and 25 hours of community service. Interestingly, this is the initial figure and terms of community service suggested by the Nevada attorney general's office ahead of the initial hearing last October. McGregor has six months to complete the community service and can do so in either Dublin or Las Vegas. Prior to the conclusion of the hearing Anthony Marnell, chairman of the Nevada commission, suggested that a re-hearing should also occur for Nate Diaz, who was fined $50,000 and given 50 hours of community service for his part melee.
The drastic change in sentence comes after the Irishman flew to Las Vegas earlier this month to meet with members of the Nevada State Athletic Commission, and following those talks, the NSAC deemed it necessary to revisit the case. Indeed, commenting during the hearing this morning, NSAC executive director Bob Bennett said of the original fine: "I just didn't think [the fine] was fair."
Today, however, after determining that — unlike in instances where a competitor takes banned substances — the bottle throwing incident didn't at all affect the outcome of their contest that took place days later, the NSAC have elected to lower the punishment. Assuming there are no further complications to the matter, this paves the way for McGregor to claim a boxing license in Nevada — the state in which Floyd Mayweather has exclusively fought since 2006. Last December, McGregor successfully applied for a boxing license in California.
This story was updated at 5.20pm GMT. Additional reporting by John Balfe.
Comments
comments