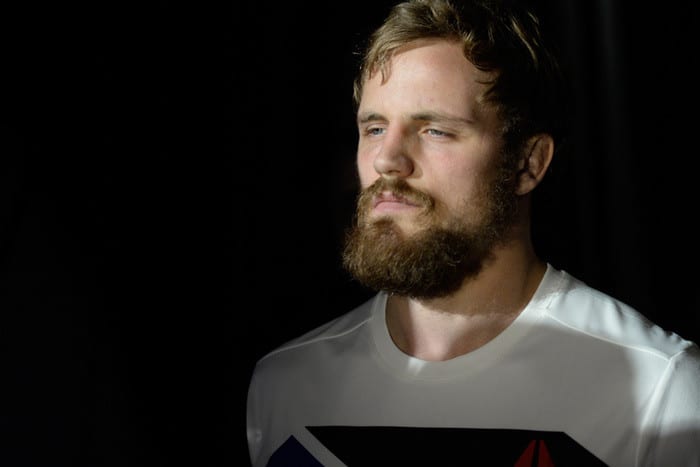 Gunnar Nelson has always stood out from the crowd when it comes to mixed martial arts.
The Icelander picked up his seventh UFC win in London last weekend with a second round submission of Alan Jouban in the co-main event bout. The SBG/Mjolnir fighter staggered his Jouban early in the second round with a right hand, followed up with a head kick before grabbing a snap takedown and sinking in a guillotine choke to end the contest.
It was the type of performance we have come to expect from Nelson; cool, calm and definitive — and entirely representative of the promise that the 28-year-old has shown since he was a teenager.
Nearly ten years ago, Renzo Gracie first encountered Nelson while teaching a seminar in Iceland and was immediately struck by Nelson's prodigious skills. In an interview with The Telegraph, Gracie described how he asked for someone to train with and was incredibly impressed in what he saw in Gunnar Nelson when he stepped up.
"I was in Iceland in 2008 with Sheik Tahnoon, he had business there", Gracie said. "And while we were there he invited me to come train with a bunch of guys in a seminar at a gym.
"I wanted to train so I went with them and in the gym I immediately noticed Gunnar. He was different to the other guys rolling. He was so talented, so focused "and determined and he had a very unique style on the ground which made him hard to sweep and predict."
It was Nelson's relationship with Renzo Gracie which brought Nelson to the attention of Matt Serra, at the time one of the top welterweight fighters in the world. Speaking on the UFC Unfiltered podcast this week, Serra spoke of how impressed he was with Nelson's win over Jouban — particularly the way in which he chose to end the fight.
"The guy is very zen-like. He's very calculated, he seems spiritual. When you hear him talk, he's very mellow", Serra says.
"When I [saw] him in the post-fight press conference, [the media] asked, 'Why did you choose to end it the way you did?' — a submission, which was beautiful. He knew [Jouban] was done […] and another few shots wasn't going to do him any good. To have that much control and belief in your technique, that guy has taken so many necks in training. It was almost a choice of, 'Do I want to sit here and beat this guy some more or do I just want to take his neck?'"
And, as Gracie says, Nelson is destined for the very summit of the sport.
"He's a great student, a great kid and – I promise you my friend – he will be a great champion."
Comments
comments