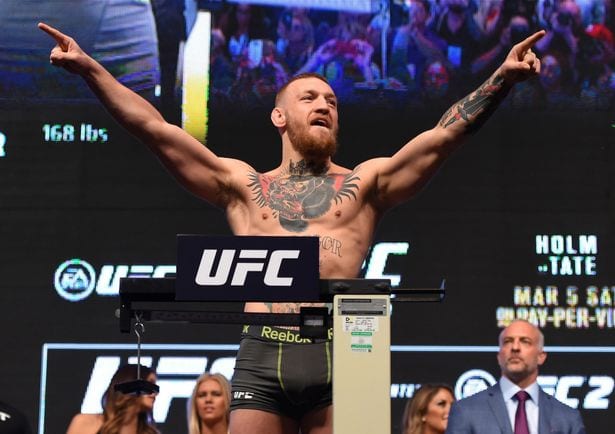 Almost as soon as Conor McGregor stepped out of the ring, fans were wondering what the Irishman's next move was going to be.
While some pointed at boxing purses being capable of keeping the UFC champion in the 'squared circle', others felt that while McGregor enjoyed his boxing experience, he'd most likely want to get back in the cage for more unrestricted combat.
While McGregor himself has yet to commit to any fight just yet, it seems as if the most clear cut opportunity would be a trilogy fight with Nate Diaz, who just happened to be backstage at McGregor vs. Mayweather.
If the two meet again (in what would actually be their rubber match), then according to McGregor it wouldn't be back at the welterweight limit of 170-pounds like bouts one and two.
"I'm the 155-pound champion, I faced him at 170, he beat me, then I rematched him at 170, I beat him," McGregor said, speaking with the media after his boxing contest on Saturday. "Now I'm the 155-pound world champion. If he wants that fight, he must come down. That's a fair trade. I didn't ask for the rematch at a lower weight, I asked for the rematch at the exact same weight. I thought that was a fair play move on my half and then I came in and I won. So now I won that, then I won the 155-pound title after that. If he wants to fight, he's got to make that 155-pound limit."
It's a re-affirmation of McGregor's original intentions, which he's made clear in the past.
Moments after defeating Diaz in their five round epic at UFC 202, McGregor stated in his post-fight interview that he was open to a third contest, but it would have to be at his more natural weight of 155-pounds.
–
Comments
comments