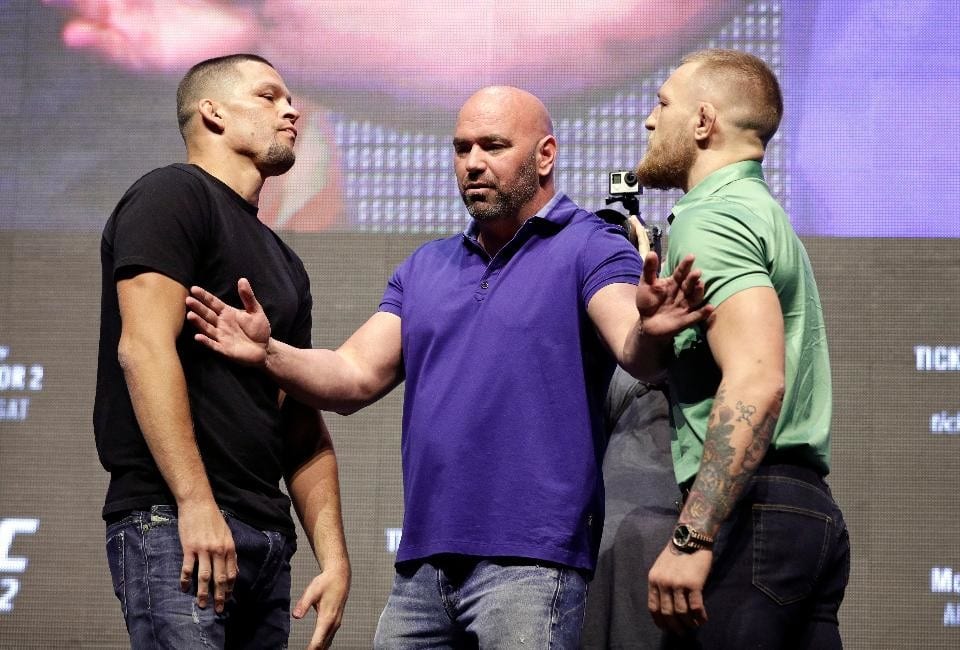 When Nate Diaz defeated Anthony Pettis, somewhere in Ireland, Conor McGregor watched with a smile.
The pair will forever be linked through a brace of brutal fights in the Octagon they had during 2016, with the pair of contests the biggest MMA had ever seen at the time. Now, as McGregor aims to return from a hand injury and mount his own comeback, he says Diaz victory at UFC 241 has served as great motivation.
"Look at Nate Diaz," McGregor said, speaking with Ariel Helwani of ESPN. "Last fight three years ago, defeated by me, came back and won. It was a motivating experience for me. Look at Stipe Miocic, came back after a knockout loss, won his title back against the man that knocked him out. There's so many stories of this over and over again, and mine is going to be the greatest one of all, and that's what I am aiming for.
"The game is far from over for me, and I'm very, very excited. I had a little road bump, I was preparing for July in Madison Square Garden, I was in phenomenal condition. Mentally and physically, the best I've ever been. I learned so much from the damage I took in that last camp, what not to do, and how to approach this next time … I'm just trying to find this balance and get motivated again, and I'm looking for inspiration everywhere.
"Like I said, I took great motivation from watching Nate going out and doing his thing. And even watching Nate — there's many thing that were amazing about that whole performance for me for Nate, but one of the ones that stood out for me, the very first thing he said post-fight was 'The Nick Diaz army,' and gave a shout out to his brother. … That's why the fans love Nate, that's why I love and respect Nate.
Right now, it's not quite known what McGregor's next step is, with the top of the lightweight division currently awaiting the result of the upcoming Khabib Nurmagomedov vs. Dustin Poirier contest in Abu Dhabi.
As always, a third fight between McGregor and Diaz has been discussed, but Diaz himself appeared more interested in a fight with Jorge Masvidal following UFC 241. Something McGregor finds himself understanding.
"If he does not want the trilogy bout, no problem," McGregor said. "I don't blame him. Look at the damage, look at the fights. They were intense bouts, but that does not matter. It's time for me to just get back in.
–
Comments
comments