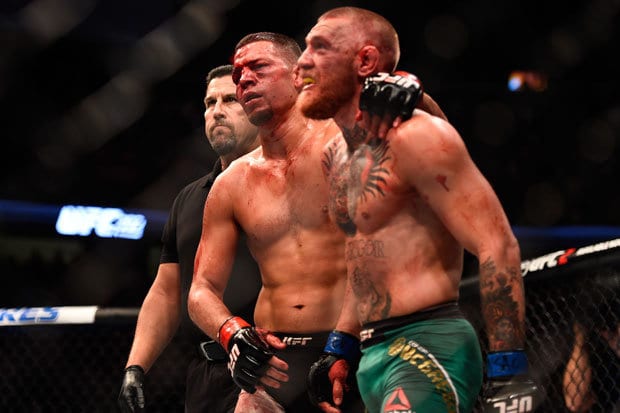 Throughout the twenty five years of the UFC, there have been a number of rivalries to capture the public's imagination in ways few others have. Every so often, two fighters come together and clash, bringing an electricity and gravitas that regular bouts fail to capture. Conor McGregor and Nate Diaz' brace of contests through 2016 fits well in that category.
And, with both owning a victory over the other, it's widely regarded that one day we'll see the pair step into the cage and settle the score in a third contest, which would likely make the biggest trilogy in MMA history.
Certainly, McGregor himself seems to think so. Today, the Irishman posted to his social media pictures of him in the gym, working his ground game.
When a fan decided to take the opportunity to have a joke at McGregor's expense, writing that Diaz' capturing of the mount over the UFC champion in their first bout was a better example, McGregor responded in agreement, before going on to pay respect to Diaz and the two battles the men have had.
"Exactly. A truly beautiful position," McGregor said of full mount. "The most intense position to be in under the lights of the entire world. Try and imagine what it would feel like. Amazing. Respect to Nate always, and our trilogy will be special when we do it 100%. There is no rush [Nate], our trilogy will show true to us for what we are. Warriors.
"And respect always … to the fans all around the world who support and recognise our work for what it is. The truest form of unarmed combat on Earth. This is as real as it gets. This is the UFC."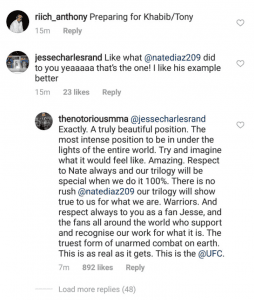 Safe to say that was probably not the response the fan was expecting.
Comments
comments