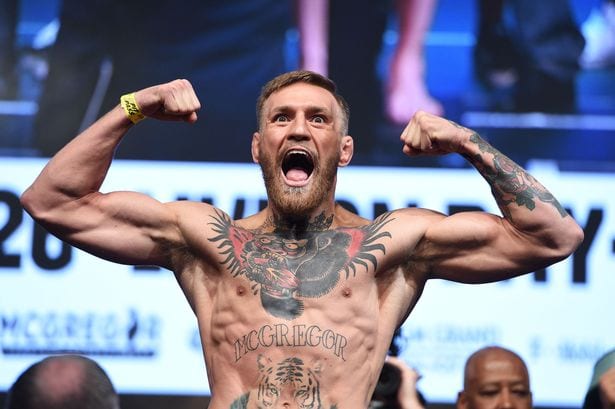 In the latest Forbes delve into the intersection of fame, wealth and social media, Conor McGregor has been listed as the fifth most influential sportsperson in the world, and the first non-soccer player to make the list.
Juventus star Cristiano Ronaldo remains out in front, commanding 887.2million interactions while his old rival Lionel Messi is in second spot with around half of the interactions that Ronaldo has. Paris Saint-Germain pair Neymar and Kylian Mbappe complete the top four, with McGregor in fifth spot with 159.7 interactions ahead of more soccer players — Mo Salah and Paulo Dybala.
View this post on Instagram

Oh Canada! @properwhiskey has arrived! #oneforall 🇨🇦 @champagnepapi @raptors
McGregror remains comfortably in front of the rest of the field in combat sports, eclipsing old rival Floyd Mayweather by more than 100 million interaction. The Irishman also stands leagues ahead of the likes of Anthony Joshua, Khabib Nurmagomedov and Canelo Alvarez.
Forbes calculate the rankings by looking at the social media engagements, including likes, comments and shares across Twitter, Instagram and Facebook. Instagram has become the undisputed leader in social media interaction, with the platform representing 46 of the top 50 social media accounts in sports.
Soccer (or football, depending on your part of the world) dominates the list owing to its status as one of the only true global sports. Of 14 athletes with more than 100 million interactions, 9 were soccer players.
McGregor regularly harnesses social media to promote his outside-of-the-cage enterprises, such as Proper No. Twelve Irish Whiskey and his collaborative relationship with designer David August. One video announcing Proper No. Twelve's introduction into the Irish market received more than 4.4 million views.
Comments
comments