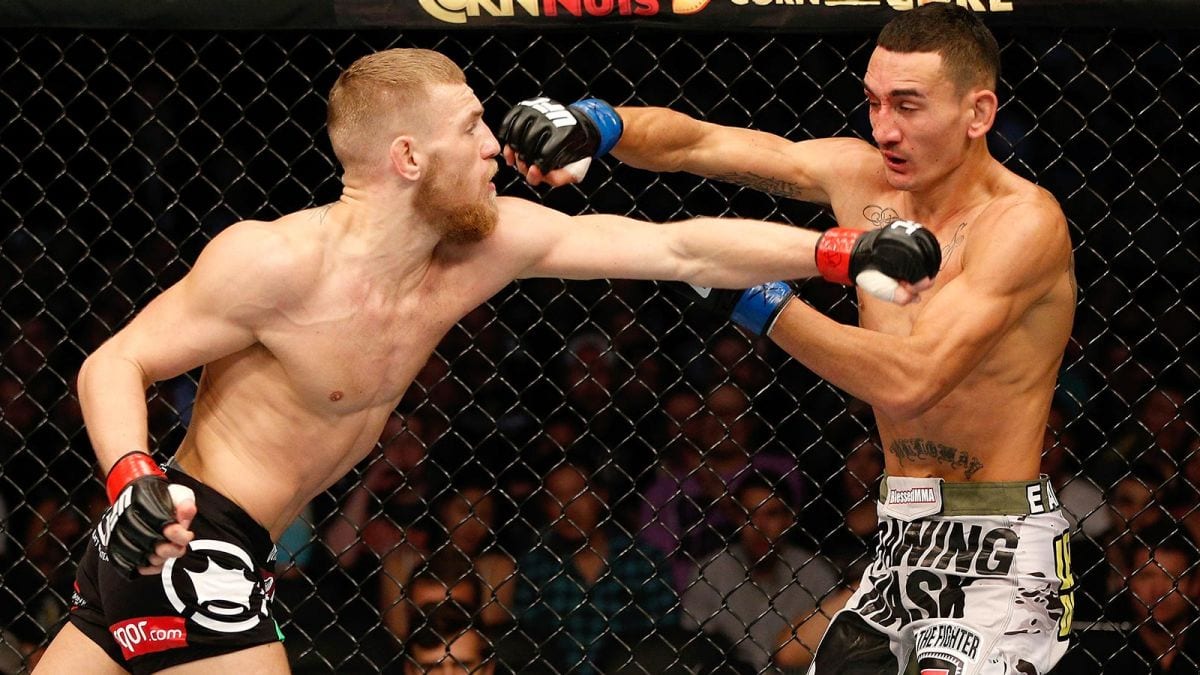 While many of his fans still consider him the UFC's 145-pound champion that hasn't stopped Conor McGregor from giving props to the man who currently holds the belt, Max Holloway.
McGregor and Holloway met in August 2013 in Boston in what was the Irishman's second UFC appearance. Despite suffering a knee injury midway through the second round which would curtail his career for the best part of a year, McGregor ultimately won the bout via clear cut decision.
The loss to McGregor remains Holloway's last defeat. The Hawaiian has put together an 11 fight win streak which culminated in a third round knockout of José Aldo to claim the UFC featherweight title at UFC 212 earlier this year and while McGregor still lays claim to the 145-pound belt that he never lost in the cage, that hasn't stopped him from praising Holloway's recent performances.
"I'm not mad at him," McGregor said of Holloway at a fan Q&A in Glasgow, as quoted by MMAFighting's Peter Carroll.
"He's done a great job. He's climbed up and claimed that featherweight belt. You see some fights, and so do the public, you see him go in there and you watch him win or lose and you watch how they act and how they carry on. He lost to me and he took it on the chin, he kept his mind frame sharp. Same with Poirier, he's another guy who kept his mind frame sharp and carried on. Alvarez as well, he took it well – you've got to take it on the fucking chin.
"You're gonna win some, you're gonna lose some. Get back on your bike, study the game a bit more, put in that extra bit of work and correct those errors that you've seen – carry on.
"That's what I'm doing. That's what I've seen (Holloway) doing. He went on to capture the unified belt off of Aldo, even though I beat both of them. Look, it's a hard one for me that one."
Holloway, who will defend his title against Frankie Edgar at UFC 218 in early December, has been vocal in wanting to face McGregor once more but the Irishman says that particular bout isn't at the forefront of his mind at the moment.
"If he wants to come up, then maybe. We'll figure it out," McGregor stated. "That's another option, but it's a low down the totem pole option."
Comments
comments