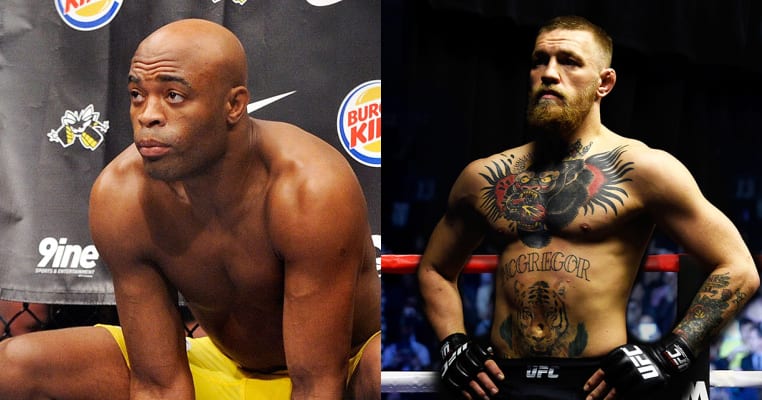 If there is one thing that Conor McGregor appreciates, it is options.
The Irish superstar will make his long-awaited return to mixed martial arts this weekend when he faces Khabib Nurmagomedov for the UFC's 155-pound title in Las Vegas but with the ink still fresh on his new six-fight UFC deal, he has begun casting glances towards some of sport's other big names for his next move.
And one name interests him in particular: Anderson Silva.
Silva, the most dominant middleweight fighter in history, hasn't competed in the UFC since February 2017 but remains one of the UFC's most intriguing fighters. The Brazilian was lined up to face Kelvin Gastelum last summer but was notified of a USADA test failure — something he has since been exonerated from after it emerged that contaminated supplements were to blame.
Both McGregor and Silva are hailed by many as two of the most impressive strikers in the quarter century history of the UFC and, naturally, this has piqued McGregor's interest.
Conor McGregor vs Anderson Silva next?

"I'd be interested in an Anderson Silva bout," @TheNotoriousMMA says. "I swear to God. Anderson is a legend of the game. I'm sure he's hunting for a few quid, as well."

Full: https://t.co/vaq5lNEsYJ pic.twitter.com/iclnU5vUU4

— Ariel Helwani (@arielhelwani) October 2, 2018
"I'm certainly considering a few options," McGregor told ESPN's Ariel Helwani. "There's this fight and the co-main (Tony Ferguson vs. Anthony Pettis). Of course then there's boxing ventures. I'm very excited about that.
"We'll see what happens, but I don't think (St-Pierre is) next. He doesn't really have anything for me personally. I'm not going to shut the door on that down the line. You know what would be another great one? Anderson Silva.
"I would be interested in an Anderson Silva bout. I swear to God. Anderson is a legend in the game. What's the difference between him and Georges? Same damn thing. I'm going to do fights that interest me or have meaning.
Comments
comments