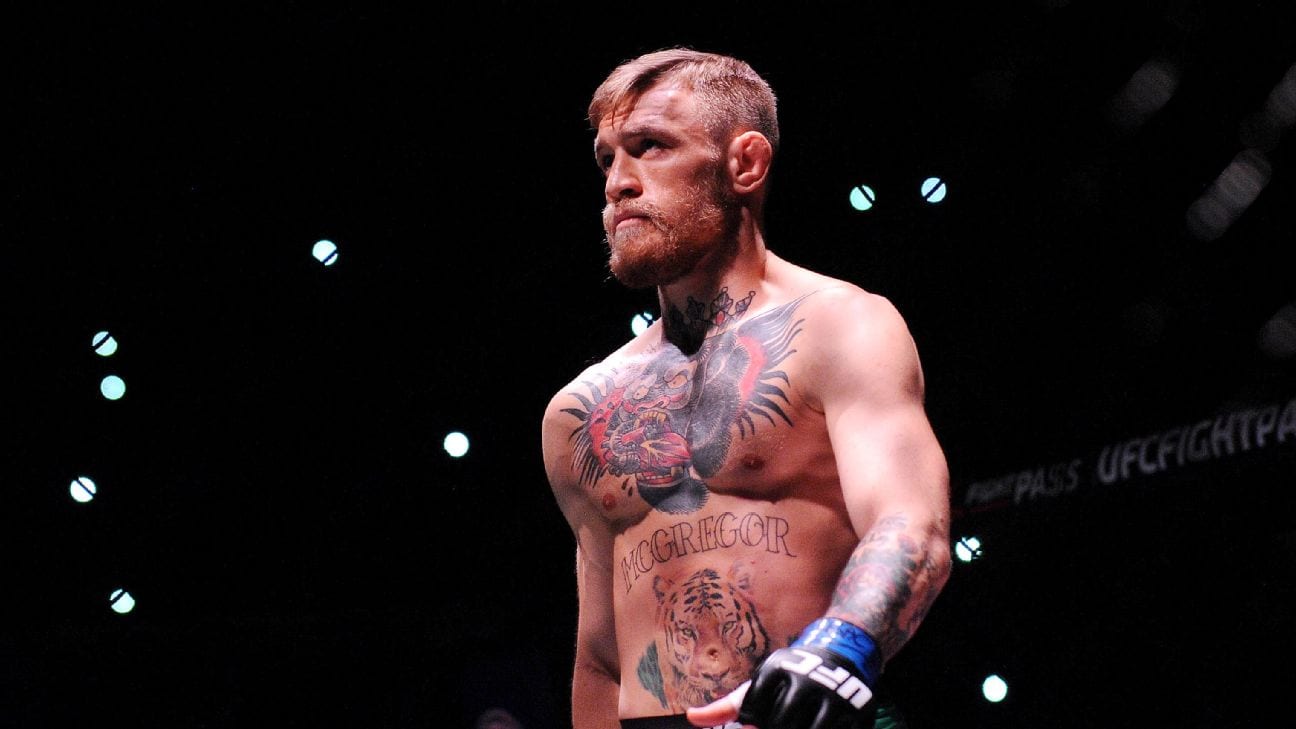 Conor McGregor's return to the UFC Octagon has slowly become one of the biggest combat sport stories of 2017.
Since the UFC lightweight champion met Floyd Mayweather in a boxing ring — which turned out to be the most commercially successful fight in history — mixed martial arts fans have been clamouring to see the Irishman return to where he made his name.
While it's as yet unknown when they'll get their wish, a new film of McGregor's rise through the UFC ranks has been released in cinemas, giving fans an inside look at how McGregor found his success in fighting. Interestingly, it also offered McGregor himself the very same view.
At a Q&A hosted in Dublin after the movie's premiere, McGregor spoke on his main takeaways from the film, which fans of the man will be unsurprised to know, was loyalty.
"I have a fucking solid, solid team with me," McGregor said. "And they've been with me the whole way. There's been no split, there's been no nothing. It's just been a solid unit. That's how you reach the high heights. You look who's truly with you, and you celebrate that. You go on and fucking go on and achieve great things and that's what we done.
"That's a mad journey right there."
As of yet, McGregor's return date and opponent are unknown — although a collision with UFC interim lightweight champion Tony Ferguson looks likely. For McGregor himself, he's finally reached a rarified air for a fighter, where any combat can be done on his own terms, and done his own way. How's that? Getting back to where he was at the start.
"If I really truly want to get back into fighting.. I'm in the negotiation stage." McGregor said. "Everyone's trying to get me to do something for money. And that's all the way up, and all the way down. From the fight game that's what they're trying to do, they're trying to get me back before the end of the year so they can make the company money so they can re-service the debt after the big $4.2 billon sale, and all this bollocks.
"And I'm sitting there watching them type of wars I went through back to back [in the film], and I'm watching them and I'm thinking: I need to take my time here. I'm in no hurry, I'm in a great position, I'm in the forever money stage now. My money's just up there rattling around in a money counter machine, and it's just right up there."
McGregor may sound content to wait until a suitable offer comes in, but make no mistake, he'll be back in the cage.
"I still love fighting. … I will fight again, no doubt, and I'll fight multiple times but when I do do it, I must eliminate all the outside stuff," McGregor said. "Because there's so much business stuff, there's so much personal stuff, there's so much everything involved in an empire. Running it, and maintaining it. … So when I truly get back and it's time to fight again, I must distance myself. Pick out the team — who was there originally — isolate myself and prepare. That's what will happen.
"That's what I took from this film. When it's time to go and do it, I'm going to distance myself, take the people who have been there from the beginning, and begin to prepare for war again."
Comments
comments