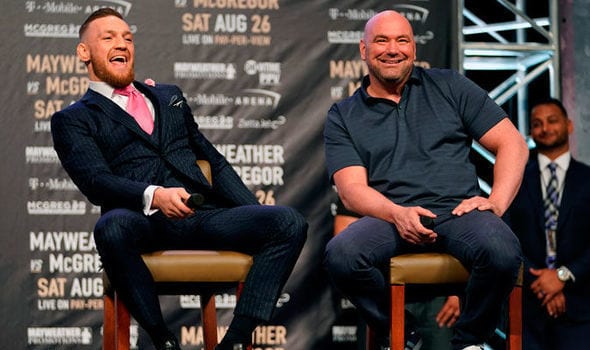 With Conor McGregor inching closer every day to what is hoped to be an April return to sparring ahead of return to the cage next summer, Dana White says that he hasn't lost even a bit of his desire for competition. 
McGregor remains in late stages of recovery from the broken leg he suffered in the Octagon in July and has continued to post various updates to social media about his ongoing return to full fitness.
The Dubliner has already stated that he is seeking an immediate showdown with lightweight champion Charles Oliveira who made it ten wins in a row at 155-pounds following his submission of Dustin Poirier a couple of weeks back — something to which Oliveira apparently agreed — and speaking to ESPN, Dana White said that this remains evidence that a competitive fire still burns deeply within the UFC's first-ever two-division champion.
"The thing I've been saying about him and I'll always say about him is the guy has plenty of money, but he still is super passionate about fighting," White said to the sports network.
White isn't wrong there. Forbes listed McGregor this year as the best paid athlete in all of sports, something which stems not just from his work in the Octagon but also his ever-expanding business empire — and White suggests that the well-worn 'it's tough to get out of bed when you're sleeping in silk sheets' maxim doesn't apply to the UFC's biggest-ever star.
"He's fired up to come back and he's out there doing everything he needs to do to get himself ready to perform again. He's telling me this, and you can see it in all of his [social media] posts and the way he's acting.
If everything goes right with the healing of his leg, he'll be back this summer. I have no idea what the landscape is going to look like by the time he comes back.
"Dustin Poirier could be retired by the time McGregor comes back. I don't know [if a title bout will be first up]. I won't know the answer until it gets closer."
Comments
comments