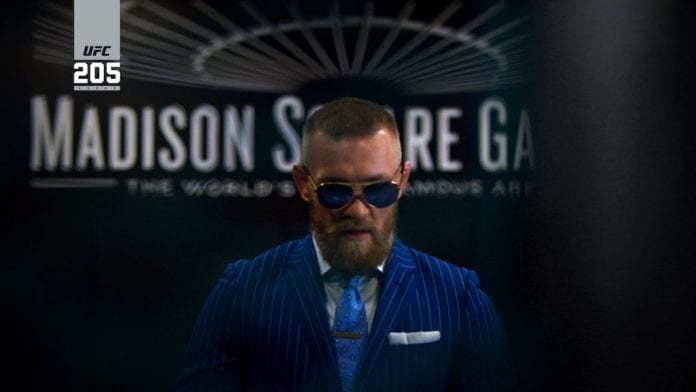 History isn't made comfortably.
At UFC 205, Conor McGregor aims to become the first fighter in UFC history to hold two belts in two different weight classes simultaneously. While the featherweight champion has made no bones about his ambitions, other fighters in the 145 and 155-pound divisions have had their noses put out of joint about the whole affair.
As a way to qualm fears of McGregor 'holding up' the divisions, UFC President Dana White has publicly stated on a number of occasions that, should McGregor defeat Eddie Alvarez at UFC 205 and win the lightweight title, the Irishman will vacate one of the two belts.
In response to that McGregor simply says: let me do it first.
"Let me see the pictures on publications with a belt on each shoulder first," McGregor said to Sports Illustrated. "Let me go onto the side of that Octagon and raise two world titles, what's never been done before, before talking about stripping me. Let me get the fucking things, let me do it.
"I'll always listen to the correct business move and I'll always do what is the correct move, but let me do it and let me go back and look at some pictures of me with two belts and let me embrace it for half-a-day.
With fellow fighters such as Khabib Nurmagomedov and Jose Aldo declaring themselves unhappy with McGregor's title shot — something McGregor thinks is simple enough.
"Everyone wants to see you do good, but not better than them," McGregor said. "That's what's happening here. I'm just looking forward to raising the belts, and doing what has not been done before.
"Don't be trying to take away the historic moment before I've even experienced it."
Comments
comments