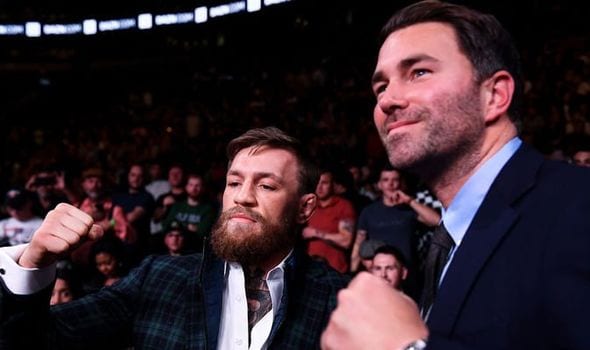 Last year, boxing promoter Eddie Hearn made headlines for a response he made to a tweet from Conor McGregor.
Speaking in October the famously media-friendly Hearn was asked by a reporter if he would ever be interested in promoting a McGregor boxing match, should the Dubliner even compete in a ring again, and indicated his admiration for the UFC superstar.
McGregor's reply at the time read as follows:
Dance for me Eddie. https://t.co/pJEd3X4kQM

— Conor McGregor (@TheNotoriousMMA) October 4, 2019
Hearn, though, wasn't dissuaded.
"When he says, 'Dance for me Eddie', is that a good thing or a bad thing?" Hearn said to iFL TV. "I've asked a few people, they went, 'Nah that's good – yeah, Eddie, dance for me'. I'll do whatever you want, mate. I will dance for Conor. No problem. I'll dance for Conor all day. Just come sign with Matchroom and I'll dance for you all day.
"It's quite amusing. It's like one of those things where you look at your phone, see all the notifications and think oh shit, what's happened now. Conor McGregor's tweeted about you. … I said he's a legend. He is. I dunno, I'm guessing he's going back to MMA. Whatever he's involved with, any chance to be associated with him in his promotion.. it would be a dream to promote him."
View this post on Instagram
And, well, judging by some more recent comments, Hearn still has those dancing shoes at the ready.
"I'll dance for Conor McGregor all he wants!" he repeated to iFL TV this week. "We're always here if Conor ever wants to work with us. I'm sure he's doing his own thing anyway. For me when I look at fighters when I look up brands when I look at self-promoters Conor McGregor is on top of the tree. I only met him for a minute of my life so I don't know the guy personally but I do have a huge amount of respect for him.
"For one, what he has done in the octagon and two, for what he's done for his business, the way he carries himself and the way he promotes himself. In that respect there has never been anyone like him. The UFC was a brand and it didn't matter who you were,you were never bigger that the UFC. But now, Conor McGregor is bigger than the UFC, that's the reality. He is is the UFC that's just it and I respect him."
Comments
comments