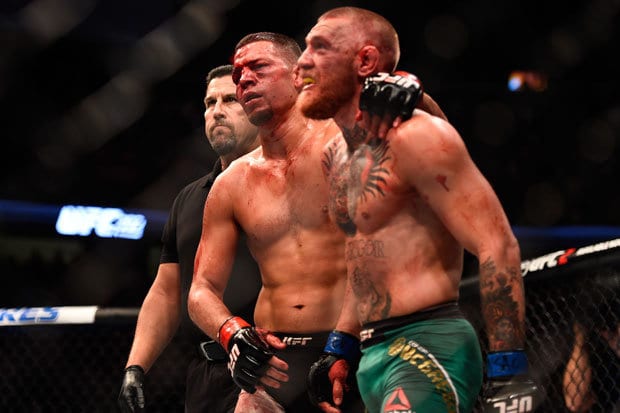 Whenever Nate Diaz competes, Conor McGregor's name is never far from the conversation.
The pair have one of the most famous rivalries in mixed martial arts, and each own a victory over the other man. Because of that, a third fight is often spoken about as an inevitability rather than a possibility.
Diaz is set to meet Jorge Masvidal next week in New York as the main event of UFC 244, in what could be one of the biggest fights of the year. The pair will be competing for a one off 'baddest motherfucker' title belt, which is being custom built by the UFC specially for the occasion.
Regardless of who wins, be it Diaz or Masvidal, they could easily go on to meet the Irishman in an absolute blockbuster of a contest — something McGregor himself is apparently interested in.
In fact, McGregor says, he has a unique interest in next Saturday's contest, telling a Russian crowd at a promotional event today that he in fact designed the 'BMF belt' itself.
"I designed that bad motherfucker belt," McGregor said. "I actually designed that. I signed off on the design of how they are creating that belt. So most certainly that belt was brought into fruition, brought to life because of me. The real bad motherfucker, so most certainly one of those men is on my radar."
Comments
comments